Parker Produces Custom Fluid Connector Products Quickly, Saving Customers Time and Money
When a one-of-a-kind tube fitting or adapter is needed, Parker Hannifin, the global leader in motion and control technologies, can design and deliver it in as few as two days. By keeping lead times to a minimum, Parker affords customers greater project planning flexibility, saving them time and money.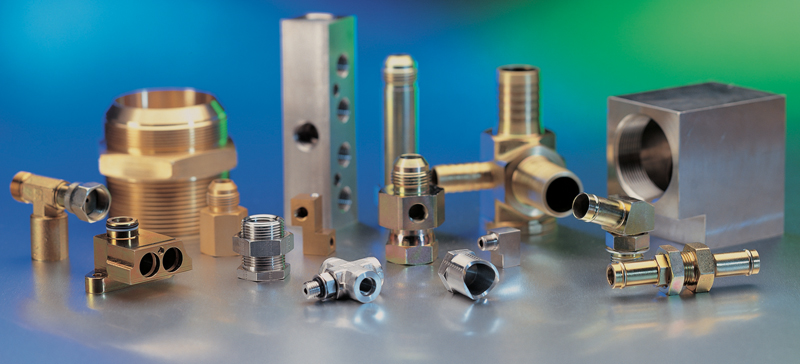 Parker's Tube Fittings Division (TFD) can manufacture custom fittings and adapters – as well as manifolds and many other fluid conveyance products – to a customer's specifications for prototypes, emergency repair or preproduction applications. Products are machined in steel, stainless steel, brass, aluminum or numerous other types of market-specific materials such as nickel copper/copper nickel, VIM/VAR, duplex and Hastelloy®. All parts produced comply with applicable conformance standards including SAE, ISO, DIN, JIS, ASTM/ASME and MIL/MS.
"Your supplier must have a full understanding of your market needs as well as design manufacturing processes required to produce high-end, nonconventional fittings," said Brian Smith, Business Development manager, Parker Hannifin Corporation, Tube Fittings Division. "Beyond fast turnaround, this is the real value we deliver. With more than 80 years in fluid connector technology innovation and dedicated customer service, design and manufacturing resources for custom products, Parker holds a leadership position few others can claim."
With ISO 9001-certified facilities and resources dedicated to nonstandard parts production, TFD is one of a small number of suppliers that possess the necessary manufacturing capabilities to work with customers throughout their full product life cycle (prototype, preproduction, full production and aftermarket support) while offering a complete infrastructure of design, quality systems management and logistics support at the same time.
Furthermore, with its full complement of manufacturing resources – including rapid-response CNC capabilities – TFD can quickly and seamlessly transition from low- to high-volume production of a specialty product. This means customers can rely on Parker as their sole custom parts supplier, whether a single piece or 50 000 are needed.
Source: Parker Hannifin Corporation