Volvo Logs and Loads in Canada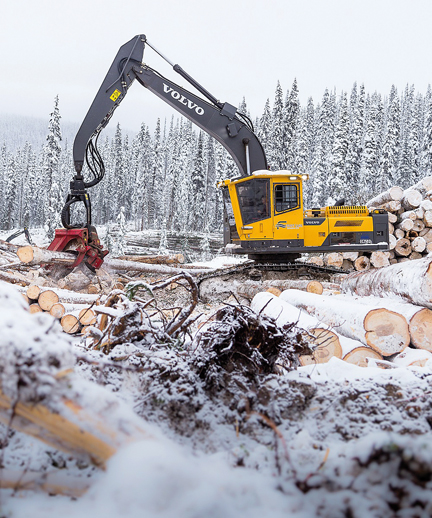 In the wilds of Western Canada, Frost Lake Logging is using Volvo construction equipment to produce high quality timber in extreme conditions.
A strong forestry industry is vitally important to Canada's economy. It is the second largest exporter of forest products in the world. The industry is steadily getting back on its feet after the recent global recession, with increases in house building and the price of lumber. In 2013, the Canadian forestry sector employed more than 500,000 people and contributed $19.8 billion to the country's gross domestic product (GDP).
One of Western Canada's premier logging companies – Frost Lake Logging (FLL) – a division of The Frost Lake Group with head offices in Prince George, British Columbia, is currently servicing a 5-year contract with Apollo Forest Products Ltd., a division of the Sinclair Group.
FLL produces quality timber in all conditions – through the freezing Canadian winters and hot, humid summers – transporting lumber from Apollo's licensed cut blocks to its Fort St. James sawmill. It also supplies timber to Dunkley Lumber Ltd., headquartered in Prince George with milling operations near Hixon, British Columbia. Dunkley Lumber is one of the largest sawmilling facilities in North America. The company has a joint venture with Ruby Rock Resources and Yeekooche First Nation, working with prime, north-central British Columbia timber.
The company was founded by Scott Kirschke in 1998 and remains under his leadership today. It employs about 70 forestry experts and seasonal contractors in order to provide many services within the forest industry.
"Our mission is to provide an exceptional level of service to our clients day-in and day-out," says Scott Kirschke, president of Frost Lake Logging. "Our success is directly attributable to our people and our equipment suppliers. They are committed to providing the highest level of professionalism, service and workmanship."
Last summer, Frost Lake Logging took delivery of 2 Volvo EC250D-Series tracked forestry carriers from Great West Equipment (GWE) – Volvo CE's local dealer in British Columbia. Both units are fitted with harvesting and processing heads.
"We off-loaded them on the landing at Apollo's Fort St. James cut block and they have been working ever since," says Jeff MacKenzie, the company's operations manager. "Under normal working conditions, the company will put between 2,000 and 3,000 hours on each machine a year."
With its Special Application Solutions team, Volvo CE is partnering with a third party supplier to refine and upgrade its line of tracked forestry carriers based on the new EC220E, EC250E and EC300E models.
"We are very pleased with this partnership between GWE and Volvo Special Application Solutions," says Warren Palmer, equipment marketing manager for GWE. "It has exceeded our expectations regarding communication, ordering, final product and warranty service. But most importantly, these machines have been well accepted by our forestry customers."
The Volvo-based forestry carriers feature fuel-efficient Volvo diesel engines (Tier 4 interim for the D-series and Tier 4 final for the E-Series), superior hydraulic power, increased swing torque and dedicated piping for processor applications. Visibility and lighting have been vastly improved as well as operator safety and comfort with the dedicated forestry cab that is ISO/ROPS/FOPS certified – fulfilling the Work Safe BC requirement. Guarding and hydraulic piping and lines have been upgraded on the application-specific forestry boom and arm assembly. The counterweight and fuel tank have been integrated, increasing fuel capacity. The high and wide undercarriage, with forestry track-guard protection, provides exceptional ground clearance and tractive effort as well as superior stability.
"I really like the Volvo EC250," says operator, Jenice Mazerolle, with more than 20 years' experience operating forestry equipment. "It has very good visibility and the lighting is terrific. The cab is very comfortable. It keeps me cozy in the winter and cool in the summer and I love the fully adjustable seat. It's a great, powerful work station and if the wood is right I can very comfortably process between 400 and 500 meters a shift."
"The Volvo excavators have a lot of power, easy maintenance access and are very operator friendly," says Brian Michel, operator. "There's some big wood here so lifting and slewing power is very important and this machine has it. And in this cab you don't feel beaten up at the end of a long shift." The machines handle different weather well. We come to the machine early in the morning, do our pre-shift maintenance, start the machine and it just gets the job done shift in, shift out."
Currently, Frost Lake Logging is working 2 active logging sites in north central British Columbia. It will have more than 50 heavy-duty forestry machines and up to 70 logging trucks working at its Fort St. James and Mackenzie operations.
"When purchasing a machine you have to look at everything and it is my opinion that with Volvo, the value and performance is definitely superior," says senior contract operator Jon Bespoyasny.
Source: Volvo Construction Equipment