REIST "Power Bonus" Turns Compact Tractors
into Industrial-Strength Snow Throwers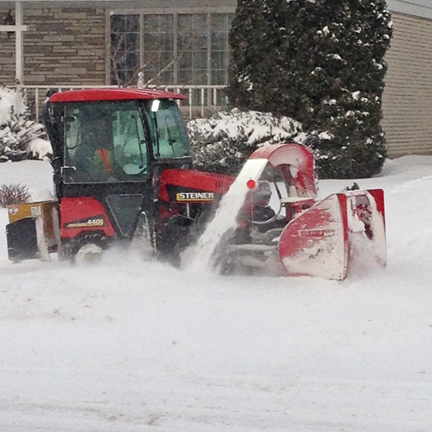 "These single-stage blowers are the only reason we can do this contract," says Jeff Mitchell, owner of Mitchell Property Maintenance in Millbank, Ontario.
Mr. Mitchell has mounted customized REIST 2000 series snow throwers on a fleet of ultra-compact Steiner tractors. "We got them last year and survived the winter. The year before, we didn't – and it was a nightmare! This year, it's down to a fine science," he adds.
Two years ago, Mitchell won the snow removal contract for the sidewalks of the town of Elmira. Located near Kitchener-Waterloo, Elmira is in the heart of southern Ontario's snowbelt. Mitchell was tasked with winter maintenance for 62 km of sidewalks for the town of 10,000.
He recalls the winter of 2012/13 painfully. "We owned 2 blowers for every tractor and it was non-stop welding on a daily basis to try to honor the contract. This year, we go out for a nice 8-hour shift and we're done! But the years before, it was more like 25 hours, and we still weren't done!"
The customized single-stage thrower that's making life so much better for Jeff Mitchell is the latest development from REIST Industries. It is no coincidence that REIST is also based in Elmira. Jeff Mitchell has been working with REIST equipment for many years. He and Brian Reist, the manufacturer's 3rd-generation owner, have worked together for many years.
The challenge of Elmira's sidewalks contract was not the volume of work required, but the nature of the sidewalks in this historic rural community. "About 50% of the sidewalks are 106 cm in the old part of town," Mr. Mitchell explains. "In the newer parts you can do a 122 cm machine – but you don't want to have 2 separate machines for one contract."
Jeff Mitchell needed a unique solution for the job – a tractor small enough to fit the sidewalks, plus a snow thrower that would work efficiently and reliably on such a small machine. Mitchell put together the right package with a REIST 2000 series snow thrower sized down to 106 cm on a Steiner 440 tractor. "There are only a couple of machines that will fit." Jeff Mitchell continues, "Everything is 122 cm and bigger. They just don't fit between guy-wires and poles, around the wheelchair ramps and mailboxes."
He asked REIST for help, knowing the company's history in snow blower engineering. "It's common knowledge in the industry: if you want to put on a snow blower that works, it's a REIST," Mr. Mitchell claims. "REIST had a front-mounted snow blower on tractors before tractors had a front PTO. They have mastered the big blowers – they don't break. There's other kinds of blowers out there, and I've had them all."
With its new line of snow throwers, REIST introduced an innovative single-stage system that can generate the power to throw snow efficiently. According to Brian Reist, "Whether you prefer PTO power or hydraulic, our latest single-stage throwers require 20% less horsepower than conventional two stage snow blowers. That 20% power bonus makes it possible for us to offer hydraulic drive kits for compact loaders and skid steers as small as 15 hp."
Right-sizing the equipment was just part of the job. But could such a small unit stand up to the work? "When we go out to work, we're not nice to our equipment," admits Jeff Mitchell. "I've tried to clog; tried to kill them – I've piled up windrows deliberately 1.2 m high and I just drove right through them! Clogging is not a problem anymore."
Jeff Mitchell especially appreciates having his nights off without welding his snow machines back together. Sidewalks, he feels, are the most demanding snow removal application. "It's just continuous banging – every crack in the sidewalk is like a shock. The machine never stops getting beaten up, and every hundred feet, you're driving over a curb. It's a huge load on the tractors and, if I didn't' have those blowers, I couldn't do it."
To reduce the impact on both the snow thrower and the tractor, REIST equipped Mitchell's small throwers with a cutting edge designed to provide a snowplow-quality scrape. These single-stage units come with a carbon-fiber cutting edge that is set on an angle, plus carbon-fiber feet to help it glide over the cracks in the sidewalk.
Mitchell's sidewalk fleet is filled out with a Bobcat 110, also fitted with a REIST single-stage snow thrower. "It's the smallest skid steer they made with a cab, but it's still too big for 50% of the Elmira sidewalks. We only use it in the newer areas. That 62 km is more like double the distance you actually have to drive. But now, we do the entire town with a couple of machines in just a normal shift."
Founded in 1947, REIST Industries is a leader in manufacturing landscaping and snow removal equipment. The company's state-of-the-art engineering and manufacturing facilities are located in Elmira, Ontario, where its technical design and engineering departments work towards creating new, innovative products in an ongoing pursuit to better serve the needs of its customers.
Source: REIST Industries Inc.