Snoplog – Snow Clearing at Another Level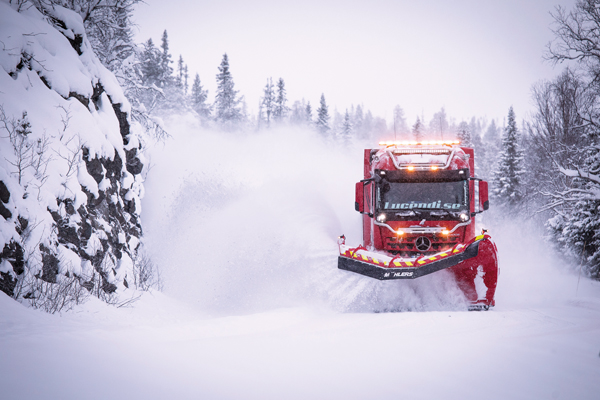 When the roads need to be kept clear of snow and ice during Sweden's winter, the only option is to call in the heavy machinery. It should therefore come as no surprise then that Jonas Vykander uses an Arocs 3258 8x4. From October to May, he is always on stand-by to keep open the roads north-west of Åre in central Sweden. Powered by an OM 473 with 425 kW (570 hp) of output, the Arocs with front-mounted snowplow drives approximately 91 km in the direction of Norway before returning in the opposite direction. The truck is also equipped with a separate laterally-mounted snowplow measuring around 1.8 m in height. Plus, a 3rd snowplow is located under the vehicle. The truck always drives just a few centimeters from the edge of the road. Additional support comes from the spiked tires on the first 3 axles. If required, Mr. Vykander can also fit snow chains.
To complete his route, Jonas Vykander needs around 4 hours and he can be called out at any time of the day or night. On a regular basis, he even has to ensure 24-hour operation – Mr. Vykander covers these with 2 other drivers. All together, the team can sometimes clock up as many as 1000 km in a day. With that in mind, reliability is an absolute must – especially in view of the fact that the drivers are often left to their own devices: for around 40% of the journey, there is neither phone nor 2-way radio reception.
"Thanks to its reliability, the Arocs allows for problem-free working," says Jonas Vykander. "Plus, compared with the previous vehicle, the consumption has sunk drastically."
Source: Daimler