Modern Crane Commissions Canada's First Demag® AC 300-6 All Terrain Crane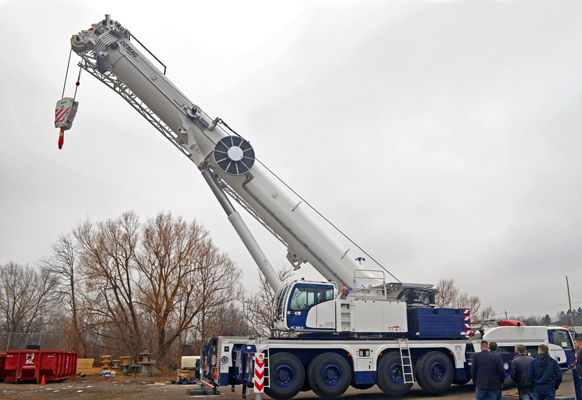 Milton, Ontario-based Modern Crane received Canada's first Demag® AC 300-6 all terrain crane. The company purchased the new crane from Terex Cranes distributor, Cropac Equipment, and plans to use it to assemble tower cranes. Modern Crane is a division of the Pumpcrete Corporation, which is highly active in the heavy lifting, concrete pumping sectors, heavy haul and transportation.
According to Aaron Hanna, Modern Crane vice president of sales, the Demag AC 300-6 all terrain crane's long main boom was a crucial feature in the company's decision.
"The crane has the reach we need, and it is easy to set up on jobsites where there are potentially impeding obstacles," he said.
Mark Williams, Modern Crane's owner, went on to say that the new Demag all terrain crane will give the company a significant advantage in the market place.
"It features the latest in crane technology that will help our team work more efficiently, and we consider Demag to be the pinnacle of heavy lifting cranes on the market," he explained.
Some of the features Mr. Williams is referring to include the Demag single-engine concept with an intelligent motor management system to help reduce maintenance expenses, and IC-1 Plus control system with asymmetric outrigger positioning that allows the AC 300-6 to perform jobs usually reserved for larger machines.
The 6-axle Demag AC 300-6 all terrain crane has a 300 t capacity classification, features an 80 m main boom and is the smallest crane in the Demag All Terrain range equipped with a luffing jib. The unit's main boom is designed to perform jobs at heights up to 78 m or 74 m radius without rigging a jib. With a 15 t lifting capacity when the main boom is fully extended, the Demag AC 300-6 is an excellent unit for erecting tower cranes.
Cropac president, Bill Finkle, said that North America has more tower cranes than anywhere else in the world, and the Demag AC 300-6 crane has a much larger capacity compared to other units in the field.
Founded in 1977, Cropac Equipment Inc. is a leader in crane sales and support in North America and worldwide. Headquartered in Oakville, Ontario, the company's knowledgeable and experienced staff, and devotion to customer service are what make this family business an international leader in the crane industry.
Source: Terex Corporation