HCSS to Give Away Scholarships for
the 2019 Construction Intern Awards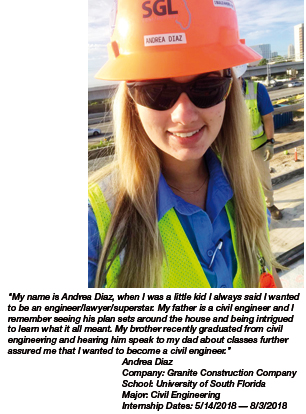 Construction industry software developer, HCSS, is launching its 5th-annual Construction Intern Awards scholarship program for college students in construction-related fields. The company will award $50,000 for 18 scholarships, including a grand prize winner and 3 finalists, as well as 14 individual weekly online contest winners.
"We started the Construction Intern Awards 4 years ago as a way to highlight some of the best and brightest students that will be joining us in the industry, while showcasing the organizations that are giving these interns challenging work assignments and putting them on some incredible projects," says Steve McGough, president & CFO of HCSS. "It's construction that gives us our modern way of life and we want to encourage this next generation of workers as they look toward construction for a rewarding and meaningful career."
This year's judging panel will include executives from the American Road and Transportation Builders Association (ARTBA), Associated General Contractors (AGC), the Association of Equipment Management Professionals (AEMP), Associated Builders and Contractors (ABC), American Contractors Insurance Group (ACIG), the Construction Financial Management Association (CFMA), the National Utility Contractors Association (NUCA), the American Council for Construction Education (ACCE), and HCSS. The final panel will be announced at the contest's opening.
Source: HCSS