Larson Releases Cart-Mounted Kerosene/Diesel Forced Air Heater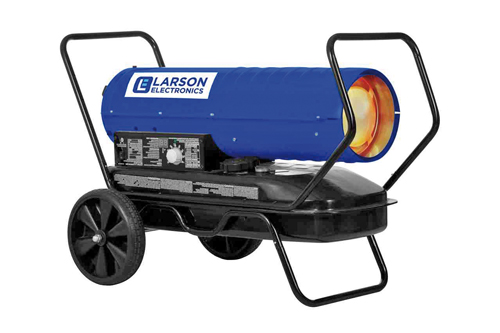 Larson Electronics, a Texas-based company with over 40 years of experience spearheading the industrial lighting and equipment sectors, announced the release of a 120 V, cart-mounted forced air heater, providing 17.8 m3/min of airflow and 200,000 kJ. This unit features a 49 l fuel tank and runs on kerosene/diesel fuel.
The GAU-KFA-PH-190K-TST 120V cart-mounted forced air heater can be used indoors and outdoors. It is capable of heating spaces of up to 440 m2 and operates on 120 V 60 Hz AC. This compact heater gives operators access to the fuel tank and air pressure with fuel and thermostat gauges for real-time monitoring. The heater consumes kerosene/diesel (CSA certified to run on #1 and #2 diesel fuel, JP8/Jet A fuel and #1 and #2 fuel oil) at a rate of 5.38 l/h, with a max runtime of 9 hours on a full tank.
Larson Electronics' cart-mounted forced air heater offers safety features that include high temperature shut off, flame out fuel cut and thermocouple. It comes with a 90 cm power cord for completing electrical connections and an extension cord wrap. This unit is mounted on a cart with 2 wheels, with front and rear handles for easy portability. The heater is suitable for use at construction sites, warehouses, commercial spaces, industrial facilities and more.
Source: Larson Electronics LLC