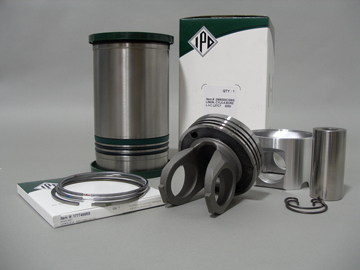 A New Series of IPD Pistons
IPD LLC, a business unit of the diversified holding company Storm Industries, Inc., announces the release of a new series of IPDSteel pistons for use in Caterpillar® C15 and some later 3406E applications.
The IPDSteel piston design is of the later two-piece articulated style that is utilized in these engines and incorporates a plate under the crown. Earlier versions without the plate are also available from IPD. This new patent pending series of pistons are available in a variety of kits from IPD including: piston and liner group kits (cylinder kits), in-frame overhaul kits, and out of frame overhaul kits.
IPD now offers IPDSteel articulated, two-piece cast steel pistons for use in the Caterpillar® 3116, 3126, 3406E, and C15 applications.
All manufacturers' names, numbers, symbols and descriptions are for reference only. It is not implied that any part is the product of the manufacturer. Caterpillar® and Cat® are registered trademarks of Caterpillar, Inc.
Source: IPD LLC