HIAB XS 435K Crane – Ideal for Building Site Deliveries
HIAB Quebec, the long time dealer of HIAB truck mounted cranes in Quebec, announced recently that the HIAB XS 435K crane is now available for sale.
The XS 435K has a lifting capacity of 3700 kg @ 7,4 m, and 800 kg @ 23,2 m. Deliver your product 9 stories up to rooftops or through balconies or windows! Yet controlling heavy loads at such a great distance is as easy as can be, thanks to HIAB's trademark precision controls.
This precise movement is assured by combining Hi Pro controls with Valve 91 and the CombiDrive. Valve 91 is HIAB's hydraulic valve technology. It is load-sensing and pressure-compensated to improve precision and speed. The remote control CombiDrive provides instant access to vital information from the crane, all while offering outstanding lever response.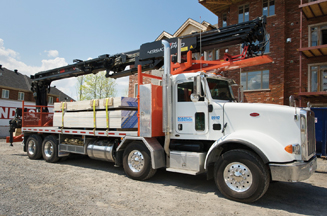 The double telescoping inner boom and four telescoping outer boom extensions are built to withstand extreme loading in all kinds of conditions. Internal parts, like holding valves and hose tracks, are well protected to prevent damage and lower maintenance costs.
Fuel efficiency was another consideration in the design of the XS 435 K. With a variable pump to control oil flow, the crane is given exactly the amount of oil it needs and no more. Because less oil is pumped, less diesel is needed, which reduces overall fuel consumption.
Other standard features include 7,0 m wide stabilizers, with available rear stabilizers for even more stability. A drywall pallet fork offers efficient moving of drywall and other palletized goods.
Smooth operation with little effort – that is what HIAB customers demand and that is what HIAB has delivered with the new XS 435K crane.
Source: HIAB Québec