The InterCombi PB from Scheuerle, a 3-in-1 Solution
Launched in November 2009, the new InterCombi PB (Power Booster) with shiftable drive axles, from Scheuerle, has completed the required number of test drives. The InterCombi PB can now be operated as a self-propelled unit as well as coupled with other InterCombi platform trailers on German highways.
For the delivery of the InterCombi PB axles, no additional transport is required.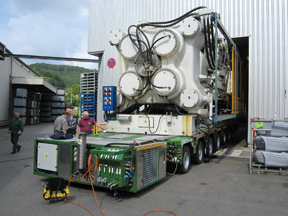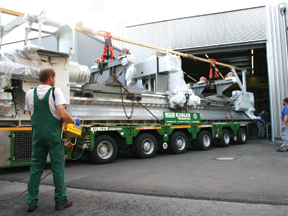 The InterCombi PB unit is simply coupled to conventional InterCombi axles and can be driven up to speeds of 80 km/h as a trailing unit on rough terrain as well as public roads and motorways. With this, the InterCombi PB is revolutionary in the challenging transportation industry.
The vehicle can be used as a self-propelled transport unit, as a trailing unit coupled to other InterCombi platform trailers or also as an additional thrust machine, i.e. as soon as the vehicle speed falls under 14 km/h, the driving gear starts automatically and thus providing sufficient thrust while driving on a critical incline.
Source: Scheuerle Fahrzeugfabrik GmbH