ContiRT20 Performance for Forklifts and Industrial Trucks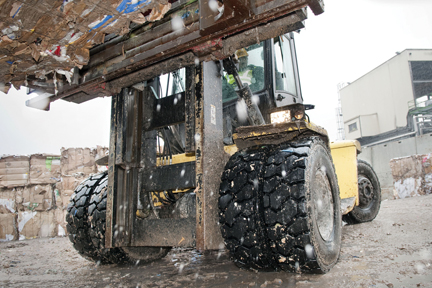 The industrial tires business unit of Continental Tire the Americas, LLC has added an entirely new product to its portfolio. The ContiRT20 Performance, a premium pneumatic radial industrial tire, is designed with special features that reduce punctures, flats and heat buildup. Continental unveiled this tire in size 12.00 R 20 at bauma, the construction machines and equipment expo in Munich, Germany.
Many companies that handle lumber, block, brick, pipe and steel are willing to pay a premium to switch from bias-ply tires to Continental's industrial radials. While Continental industrial radials consistently satisfy these demands for fewer flats and longer, cooler operation, market conditions now demand that industrial tires provide even greater puncture resistance, increased lateral stability and greater potential for retreading. The ContiRT20 Performance meets all of these demands and has been engineered to achieve up to 30% greater life expectancy than its predecessors.
Heavier-duty tread blocks, wide, flat-belt construction, reinforced steel beads, stiffened, more impact-resistant sidewalls, and a wider, abrasion-resistant tread are just some of the impressive design features of the ContiRT20 Performance.
The tread depth of this tire was increased to the maximum to ensure the longest possible service life, even under arduous conditions. The tread pattern design, featuring wide grooves, provides reliable traction on both surfaced and unsurfaced ground.
Continental also designed this tire to meet environmental requirements, with an advanced low rolling resistance tread compound, which reduces energy and fuel consumption. The tire's strength and high performance reserves will also allow for longer lifetimes and greater retreadability, which reduce waste from premature replacement of tires.
This tire line is available in 13 sizes with Speed Index A5 (25 km/h). Production began in April and further sizes may be introduced as the market demands, the company said. The ContiRT20 Performance can be installed with either a tube and flap, or with Continental's TSR (Tubeless Sealing Ring) which guards against rapid deflation in the event of a tread or sidewall puncture.