Off-road Camper Trailers
Jeep® and Mopar® are setting up camp for off-road enthusiasts. They will be the first in the industry to offer customers off-road camper trailers.
Designed to meet off-road capabilities of Jeep 4x4 vehicles, Jeep Trail and Extreme Trail campers incorporate Jeep Wrangler's rugged design cues. They were designed for the Jeep enthusiast looking to hit the trails with the family.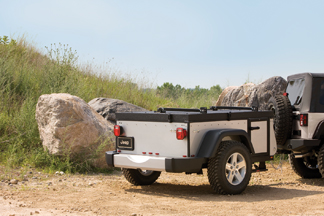 The Jeep Trail Edition camper features an extensive use of lightweight tubular-aluminum construction (no wood or fiberboard materials) in order to mitigate the additional load on the Jeep tow vehicle and make operation a breeze.
The Jeep Extreme Trail Edition camper is designed to handle maximum off-road capability that hard-core off-road enthusiasts crave, with additional trail equipment to go anywhere and do anything. Starting with the Jeep Trail Edition camper's off-road engineered suspension, the Jeep Extreme Trail Edition camper ups the ante with a heavy-duty frame, 38 cm ground clearance and a full-underbody skid plate.
Source: Chrysler Group LLC