K-Tec Earthmovers Announces a New Rental Program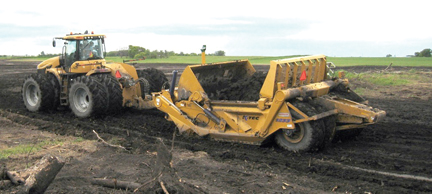 K-Tec Earthmovers Inc., a construction scraper manufacturer located in Rosenort MB, has responded to contractors' needs by introducing a rental program, which is available to the end user. Until now, K-Tec Scrapers have been available for rent only through dealers. As a fast growing company with few dealers, there are often situations where a contractor's only option to get their hands on a K-Tec Scraper was through a purchase. This new rental program allows end users to rent factory direct if there is no K-Tec dealer in their area.
"With the economic slow down", says president Ken Rempel, "K-Tec needed to come up with a solution that allowed end users to use our productive scrapers without having to purchase them. We still see contracts being awarded, but contractors are opting to use their existing equipment, even if it is less efficient. Our Rental Program will allow contractors to rent K-Tec scrapers on a monthly basis. This will help to reduce their overhead, while still using a cost effective solution."
K-Tec has a service team in place to help contractors hook up their rented K-Tec to their existing tractor or rock truck (ADT). Ken Rempel says "All a contractor has to do is pick up the phone and give us a call. We will ship one or more scrapers and have our service team go to the job site and help them hook the scrapers to their tractors. In the case of a rock truck (ADT), the contractor will need to work closely with the K-Tec service team to prepare their truck as a scraper power unit."
K-Tec has a number of different scrapers available in their rental fleet. These include the popular K-Tec 1228 and K-Tec 1233. K-Tec has been working with this rental concept for the last year, with favorable results. Whether through a dealer or directly through K-Tec, there is now a K-Tec scraper available for you to rent.
K-Tec Earthmovers Inc., a Canadian-based earthmover manufacturer, continues to provide earthmoving solutions that will get the job done faster, while maintaining a higher return on investment.
Source: K-Tec Earthmovers Inc.