Kubota Enters the Track Loader Market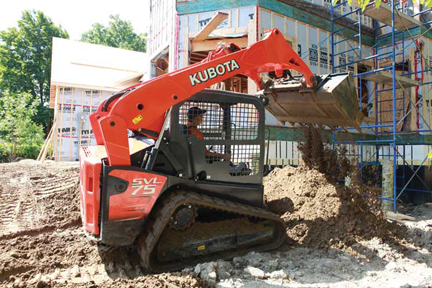 Kubota Canada Ltd. announces the arrival of its new, eagerly-awaited compact track loaders. The SVL Series (Super Vertical Lift) SVL75 and SVL90 models. The new compact track loaders are Kubota designed, engineered, and manufactured to ensure quality consistent with other Kubota products, and to deliver the exceptional reliability, durability and performance that operators have come to expect from Kubota.
The Kubota SVL models are designed from the ground up to be a track loader. From the integrated mainframe and undercarriage to the original rubber track to the outstanding power and traction force, the SVL Series are built to set the new standard in the compact track loader market.
The 75 hp SVL75 and 90 hp SVL90 boast a lifting capacity of 2213 kg and 2662 kg respectively. Both models are powered by a four-cylinder, direct injection, turbo-charged Kubota diesel engine. The vertical lift loader allows for optimum reach and dumping capabilities.
The SVL's offer a wide cab entrance and an ultra spacious, comfortable operator area. The roomy operator area features a high-back, fully adjustable suspension seat and ample leg and elbow room. A hand-and-foot throttle ensures exceptional versatility and the 2-speed travel and high ground clearance provide optimal travel performance. Visibility around the entire machine, and to the tracks and the bucket edge is clear from the seat. The rigid mount undercarriage and triple flange track rollers keep you working confidently on rough or sloped terrain.
Kubota's SVL75 and SVL90 feature an easy tilt-up cabin for convenient access to all hydraulics. Daily maintenance checks for engine oil , fuel filter, water/fuel separator, air cleaner and coolant level are simple, and all grease fittings accessible from ground level. A slide-and-tilt radiator and oil cooler allow for easy cleaning and easy access to the engine compartment.
Source: Kubota Canada Ltd.