Roto and Space Platforms Invaluable in Construction of the Metz Pompidou Centre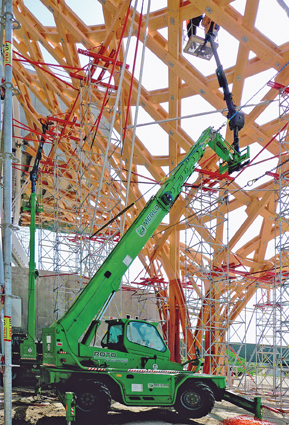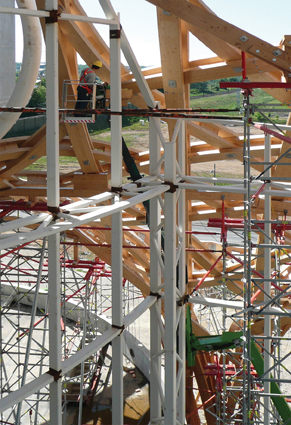 The Council Leaders of Metz believe that their new Pompidou Centre will bring their city to the forefront of European Arts, was justified when it was opened by France's president Nicolas Sarkhozy in May 2010.
It will become a showcase for French artists, with the works of Matisse, Picasso, Brancusi, Tinguely in evidence, amongst many others. And, it will also be a showcase for the very latest in design and building technologies. It is a work of harmony between steel, concrete and wood. Amongst which, the most obvious external sign is the sweeping cantilevered "tent" roof.
One of the world's leading exponents of wood construction is the Weilheim-Bannholz company. The basis for the interwoven, prefabricated structure is a steel scaffold pipe system. This open structure permits access throughout the building process for boom-type lifts and platforms.
Rental company Amann GmbH was chosen to supply the machines for site use and had up to 5 Merlo Roto machines, of various sizes, in use at one time. Each of the 25 m, 21 m and 16 m Rotos was fitted with a Merlo SPACE system, which allows reach through and around the pipework structure.
The fixing of all of the various components and the mounting of the central tower crane, was possible because of the great versatility of the Roto and SPACE combination.
Each of the Rotos has a telescopic boom, of course. These range in sophistication from simple, three-section booms, up to the five-section assembly used on the biggest, the Roto 40.25 MCSS that gives over 25 m of lifting height.
The SPACE platform, however, adds two extra dimensions – not only does it have its own telescopic extension (up to 11 m), but it also allows the working basket to be slewed 300° around its vertical axis.
Not only can two workers (the platform has a safe working load of 200 kg) safely work at up to 36 m, but they can also go up through apertures in the structure and even around corners. A quite amazing flexibility!
Access inside the framework was difficult and these results could not have been achieved without a great degree of skill and co-operation from the operators of numerous machines.
The Roto MCSS, in particular, are ideal for this kind of complex job requirement. The Merlin Computerized Safety System (MCSS) has been developed in-house by Merlo engineers to guarantee safety, automatically compensating when the outrigger configuration is changed. A unique feature of the MCSS system, is its ability to work safely with the stabilizers asymmetrically deployed – even, for example, with the outriggers on one side completely retracted!
Operating from that 36 m platform, it is good to know that this EN280-compliant combination is completely safe!
Source: Merlo S.p.a.