New Sennebogen Distributor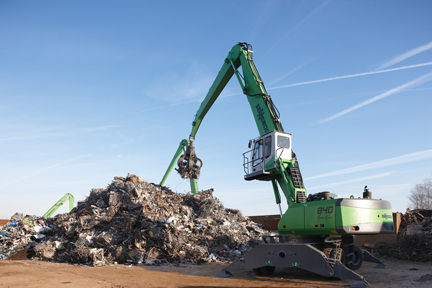 As the leading specialist in material handling equipment in western Canada, Mi-Jack Canada has expanded its lines of purpose-built machines with the addition of Sennebogen green line material handlers.
Constantino Lannes, president of Sennebogen LLC, welcomed Mi-Jack Canada to the company's renowned dealer network. "Mi-Jack is among the world's most respected names in heavy lifting applications. We are extremely pleased to have that level of expertise and focus representing Sennebogen equipment in Alberta and Saskatchewan."
Brian Lynch, the manager of Mi-Jack Canada at its branch in Leduc, Alberta, sees these purpose-built material-handlers making quick in-roads into the region's scrap-handling and recycling markets, where Sennebogen has become the industry leader. Logging and forestry, long-time mainstays of the Alberta and Saskatchewan economies, also represent significant potential as the industry turns around from the current recession.
The core of Mi-Jack Canada's business is the company's own highly regarded gantry cranes and intermodal equipment.
Source: Sennebogen LLC