Mercedes-Benz Buses and Coaches at the 63rd IAA in Hanover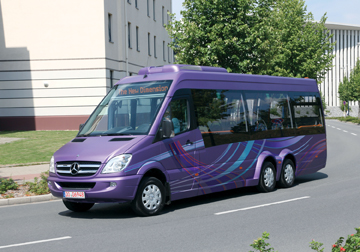 The new developments for Mercedes-Benz buses and coaches will focus on enhancing environmental friendliness, efficiency, and passenger safety.
The company presents five travel coaches and transit buses at the 63rd IAA. Among them will be the innovative, zero-emission Citaro FuelCELL Hybrid and the new Mercedes-Benz Sprinter City 77 for urban use.
Mercedes-Benz caps its urban minibus range with the new Sprinter City 77. The 3-axle 8,7 m-long urban bus is based on a conventional Sprinter up to the B-pillar. The bus body with twin rear axle and continuous low-floor area is an exclusive in-house development that has a capacity of 40 passengers. The gross vehicle weight of 6,8 t facilitates the high passenger-handling capacity.
The outward-swinging double doors, which are operated using an innovative drive concept, and a kneeling function along with the stepless low floor throughout ensure fast passenger flow and convenient boarding and alighting. Depending on the configuration a wheelchair bay with a ramp is available at the front or rear. The bright interior with its large windows and large glass doors is spacious and attractive.
The Sprinter City 77 has a wheelbase of 410 + 99 cm. The air-sprung rear axles feature 235/65R16 C single tires all-round. The relatively short wheelbase and the sleek design make the minibus extremely maneuvrable: the width of the separately mounted body is just 199 cm, making the largest member of the Mercedes-Benz minibus line-up likewise ideally suited to tight inner city areas. Moreover, it is also an ideal solution as a shuttle bus for airports or trade fairs, as well as for rural services.
A Mercedes-Benz Sprinter with the most powerful version of the four-cylinder diesel engine provides the platform. Its output of 163 hp delivers appropriate performance. The Sprinter City 77 is among the cleanest on the block with its EEV emissions standard certification. Power transfer comes courtesy of a convenient fully automatic 5-speed transmission as standard.
The 63rd IAA Commercial Vehicles will take place September 23 - 30, 2010 in Hanover, Germany.
Source: Daimler AG