Canada Leads the Way for Green Roof Wind Standards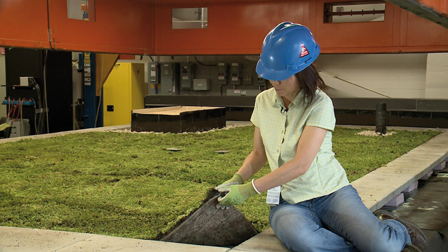 Canada is leading the way with the first standard test method for wind uplift for vegetated roof assemblies (VRAs). Xeroflor, inventor of the pre-grown vegetated mat, is part of this significant effort as a member of a research consortium led by wind expert Dr. Bas Baskaran of the National Research Council of Canada (NRC). Test results will be used to develop the first wind uplift standard of this kind. Simply put, it will be the "first systematic Pass/Fail technical standard for VRAs in the world," says Dr. Baskaran.
Sasha Aguilera of Xeroflor Canada and Dr. Karen Liu of Bonar Xeroflor are working closely with the NRC team setting up and monitoring the tests.
The wind uplift tests are being conducted at the NRC's Dynamic Roofing Facility in Ottawa, Canada, using a chamber fan mechanism that simulates the dynamic effects of wind. After laboratory testing, results will be benchmarked against real world conditions. "The next phase is to monitor vegetative cover on some actual buildings in the Greater Toronto Area under the influence of Mother Nature," said Dr. Baskaran.
In addition to this collaboration, Bonar has 25 in-house scientists who keep Xeroflor on the forefront of cutting edge research. As a green roof pioneer that developed the pre-grown vegetated carpet 4 decades ago, Xeroflor systems have undergone other stringent tests and are certified for fire and wind. "Fifteen years ago, the late international wind expert Hans Joachim Gerhardt tested Xeroflor systems in Germany for wind uplift resistance," says Dr. Liu. "Now, we are testing our system with the NRC to ensure that it meets the wind design requirements in Canada." Professor Gerhardt's 1999 wind tunnel tests showed that Xeroflor's patented XF301 green roof system remains secure against wind uplift on 100 m tall buildings (approximately 30 stories).
Xeroflor's XF301 pre-vegetated mat is known for its lightweight and low maintenance features which makes it a popular green roof solution for older, even historic, buildings. It has fared successfully on buildings all over the world in strong winds, even hurricane conditions.
With more than 40 years' experience, the Xeroflor brand is the recognized international leader of green roof technology.
Proven and patented, Xeroflor green roof systems are on thousands of installations worldwide including the groundbreaking, 4.2 ha Ford Motor Company Rouge Plant.
In addition to the NRC collaboration, Bonar Xeroflor and Xeroflor Canada are currently collaborating on new research with University of Toronto's Daniel's School of Architecture and University of Guelph's Environmental Sciences.
Source: Xeroflor