Hirschmann's New iSCALE Control System
Installed on Altec Boom Truck
Altec has begun outfitting their AC45-127S telescopic boom truck with the new Hirschmann iSCALE Control System.
The Load Moment and Area Protection system, known as Altec's LMAP system, consists of a complete Hirschmann system package which includes the vSCALE D3 display, cSCALE S6 control unit, and various sensors.
Hirschmann customized the programming of the LMAP system to meet Altec's specific requirements.
The console features a bright 7" color display with video capability and intuitive menu navigation.
The crane operator can view all crane information including general configuration, crane geometry and engine parameters.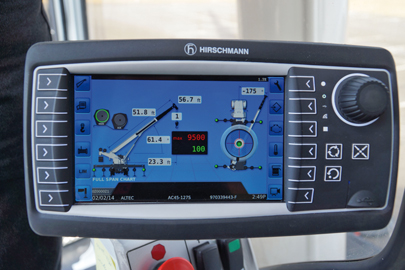 The operator can also define audible alarm set points (Area Protection) and numerous user warnings which help to improve awareness on the job site.
This reliable and robust system is the result of a partnership between Altec and Hirschmann to provide the crane operator with a dependable control solution.