Holmatro launches Industrial Solutions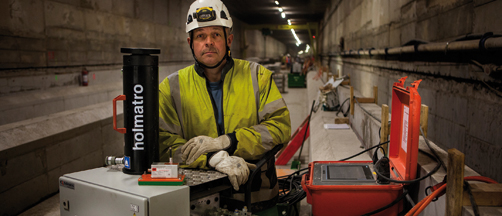 The world of high pressure hydraulics is constantly in motion, and the demand for results-oriented customer-specific solutions has increased strongly over the past few years. Holmatro has now built up broad experience and good references in the field of "customized" solutions in the world of heavy lifting and movement. Now the time has come for the company to officially publicize its innovations, under the new name "Industrial Solutions".
"With Industrial Solutions we demonstrate that we go further than just developing and manufacturing standard hydraulic equipment", says Niels Rombouts, Holmatro Industrial Equipment director. "the demand for customer-specific solutions has increased enormously over the years. We now have a complete team of engineers and experts, dedicated to finding the right solution for various different challenges together with the customer."
Whether it be the computer-controlled synchronized positioning of heavy loads, the horizontal movement of industrial objects and installations of exceptional sizes in limited surroundings or the larger vertical movements of heavy loads with accurate control, nothing is impossible for the Holmatro Industrial Solutions team. Cooperation with the customer, ease of use and safety are recurring starting points for the development of these "customized" solutions.
All Holmatro products are developed, manufactured and thoroughly tested in-house. Resulting in real Dutch quality and reliability. The products have a life span that extends for years, which can moreover be extended by a comprehensive service program.
Source: Holmatro Industrial Equipment