Insero Equipment Seeks International Dealers & Distributors
Insero Equipment, a manufacturer of industrial construction equipment based in Nebraska, is seeking international dealers and distributors to help build a network of experienced and dedicated dealers for its top-of-the-line equipment.
Insero Equipment currently offers the following products; towable industrial heaters, dewatering "trash" pumps and light towers; truck auxiliary power units; as well as their patent pending AMP, an all-in-one skid steer featuring auxiliary mobile power. This offering is engineered with an emphasis on productivity for any jobsite and all products are built with world-renowned Cat® components to increase efficiency, saving the user valuable time and money.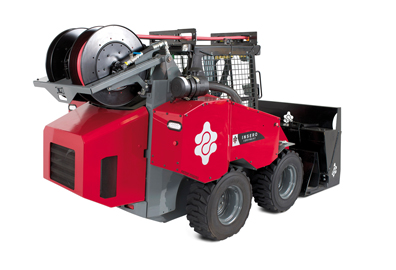 "With our current product line, Insero Equipment can help your jobsite to stay efficient and productive when your company needs it most," says Greg Terjesen, director of International Sales at Insero Equipment. "We are looking to establish dealers that instill those same qualities when they sell our products."
The dealer network for Insero Equipment will help to distribute the company's line of quality and reliable industrial construction equipment to the market. Every piece of equipment Insero manufactures flows through the principles of durability, reliability, and value creation to ensure they are the most productive.
Insero Equipment Heater
With the power to deliver over 1,000,000 BTUs of indirect heat, the Insero Heater is designed with the most advanced technology to generate flameless sparkles heat. Powered by a Cat C1.5 diesel engine, the Heater provides fuel efficiency as well as the ability to connect to a shore power when electric power is available. It is also equipped with an auxiliary 120 V power outlet with GFCI and 20 A service.
Insero Equipment Pump
The Insero Pump is engineered with the reliable Cat diesel power engine and a leading-edge pump, it can deliver under the most rugged conditions. Built with 2 standard engine options, Cat C2.2 or C4.4, with up to 127 hp, Insero's team of engineers can also provide you a pump based on project specifications. The Insero "Trash" Pump is designed to provide the highest performance capabilities for your jobsite and provides the efficiency you need to deliver extreme flows.
Insero Equipment AMP
The Auxiliary Mobile Power (AMP) unit utilizes a Cat® skid steer loader base with an integrated power source to provide users with pneumatic, electric and hydraulic power.
Each of the 3 power options comes with over 30 m of reel capacity from industry-leading Hannay Industrial Reels. These long-range hoses allow operators to run tools such as jackhammers, drills, saws and welders from the various power circuits. "No outside power source is required while utilizing the AMP, making remote jobsites easier to access with the necessary tools workers need," said Jared Reinoehl, Insero Equipment director of manufacturing. The dynamic tool capabilities, self-sufficient power and transformative aspects of the AMP make it a versatile piece of machinery in any fleet.
For additional information or to schedule a time to discuss the benefits of becoming an Insero Equipment dealer, please contact info@inseroequipment.com
or call +1.402.861.2970.
Source: Insero Equipment