Spirit AeroSystems Adds Storage Capacity With Large Fabric Structure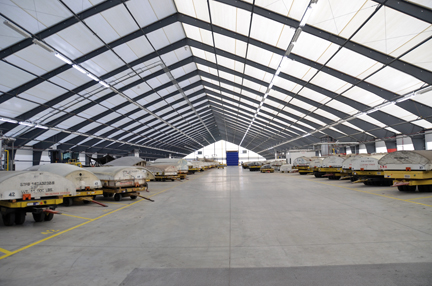 Spirit AeroSystems, one of the world's largest non-OEM designers and manufacturers of aerostructures for commercial, military and regional jets, has opened a new storage facility at its headquarters in Wichita, Kansas. The tension fabric building was designed and constructed by Legacy Building Solutions.
Spirit's fabric structure measures 48.8 m by 182.8 m, providing ample space for equipment storage. The fabric building features rigid frame, I-beam engineering, with a durable, translucent polyethylene roof on a structural steel frame. The clear span roof slopes from an interior peak height of 14 m to an interior eave clearance of 3.75 m at the sidewalls. All building frames and steel components are coated with a primer for added protection.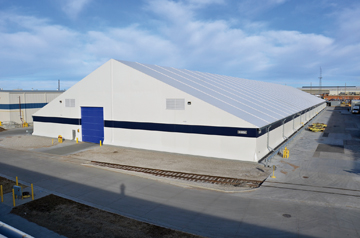 Each endwall of the building has a 6 x 6 m Megadoor for easy access. To accommodate large components that are moved in and out of the structure less frequently, one endwall also features a special 9.1 x 7.6 m removable panel as a cost-effective alternative to a larger permanent door.
A 1.8 m-wide blue stripe along the exterior walls was incorporated to match Spirit's other structures on the campus. Icebreakers were installed in high traffic areas to prevent injury from snow and ice sliding off the roof. The building is also equipped with 20 cm gutters and downspouts for enhanced drainage control.
The project was originally initiated after a severe storm damaged an existing Spirit warehouse. After the design and manufacturing of building components was completed, Legacy crews arrived on-site and erected the structure in two-and-a-half weeks. The building meets seismic "B" design codes and the fabric roof is rated for 145 km/h winds and 73 kg/m2 snowload.
Source: Legacy Building Solutions