HoseFinder 3.5 Mobile App
Now Includes Industrial Hose and Parflex Division Products
Parker Hannifin has increased the products available within its HoseFinder mobile app, making the mobile app more versatile for selecting and locating critical hoses.
Adding to the some 5,000 products from within the Hose Products Division (HPD) that were originally included in the initial 2010 launch, HoseFinder 3.5's searchable catalog now includes products from Parker's Industrial Hose Products Division (IHP) and Parflex Division (PFD). Using the STAMP (Size, Temperature, Application, Media, Pressure) search feature to browse, users can find products by general categories, such as hoses, fittings, and accessories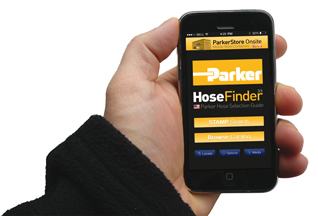 Users can take advantage of HoseFinder's custom distributor search function, directing them to the closest of Parker's more than 13,000 worldwide distribution locations. All of Parker's distributors are highly experienced in fluid conveyance systems and are ready to advise customers on how to keep their equipment performing at the highest possible level.
HoseFinder 3.5 is available for iPhone and Android devices. Optimized for iOS 7, it now includes improved graphics and faster searches throughout the app.
Source: Parker Hannifin