Titan's Rear-Aft Fuel Tank Keeps Ford Trucks in Service by Taking Diesel Fuel Integrity Out of the Equation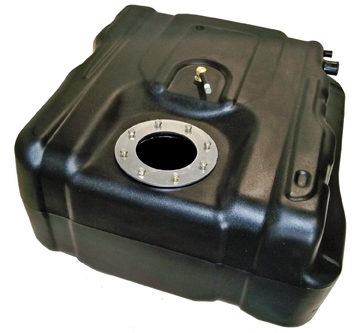 Titan Fuel Tanks announced recently that it has started shipping its new 151 l, cross-linked polyethylene, rear-aft fuel tank. The polymer tank is the only one on the market engineered to fit 2011-2015 Ford F-350, F-450 and F-550 diesel cab and chassis trucks.
Titan's new tank virtually eliminates the service and maintenance issues associated with diesel fuel line contamination originating in OE and aftermarket steel fuel tanks. The tank was met with widespread fleet interest during its first public display on June 8, at the Equipment Fleet Management 2014 National Conference and Trade Show in Lake Buena Vista, Florida.
For years, widespread problems have been attributed to fuel-related degradation and delamination of the protective linings of steel fuel tanks. Polymer tanks are not susceptible to the chemical and biological reactions that diesel, bio-diesel fuels and additives are accused of causing in steel fuel tanks. Formed from military-grade, cross-linked polyethylene (XLHDPE), Titan aftermarket fuel tanks can safely be used with the wide array of bio-diesel fuels and blends on the market today.
"We serve many fleets and have seen a large volume of delamination-related problems in fuel pumps, filters and injectors," said Paul Nishanian, executive vice president for Xtreme Diesel Performance (XDP). "Titan's innovation has been instrumental in providing the industry and the fleets we serve with a viable alternative to steel replacement tanks that are prone to the same failure as original equipment steel tanks."
The interior surfaces of both OE and aftermarket steel fuel tanks are commonly lined with a coating that can begin to degrade when exposed to the chemical and biological makeup of many of today's diesel and bio-diesel fuels. As the coating deteriorates, particles of it are sloughed off, contaminating the fuel source, causing failures along the fuel's path through pumps, filters and injectors.
Fuel tank delamination is considered a fuel-related issue and is not covered under warranty. Repair costs can mount rapidly and in many cases a new steel tank with the same susceptibility to failure is installed. The recurring problem has become an issue for consumers and public and private fleets alike.
Titan's new 151 l tank, product number 8020011, is designed to replace 2011-2015 Ford original equipment part numbers CC3Z9B210B and CC3Z9002B.
Source: Titan Fuel Tanks