Is Technology the Answer to Preventable Deaths
and Injuries in the Workplace?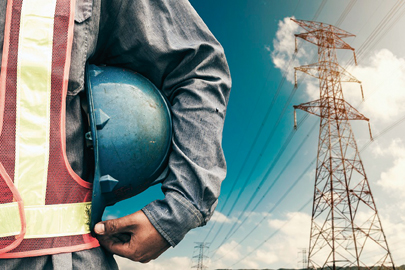 Exposure to electricity is a major cause of death among construction workers in Canada. On average, 143 construction workers are killed each year and thousands are severely injured due to electrocutions.
Power lines and overhead cables are commonplace on construction sites and those working nearby are particularly at risk – even more so when vehicles are involved.
In 1999, a construction worker in Saskatchewan was fatally injured when the crane he was working on backed into a power line. The driver had failed to lower the boom the worker was standing on far enough and consequently the worker was hit by 14,400 V of electricity. He suffered 3rd and 4th degree burns to more than 60% of his body, including his face, and had to have his right arm and left leg amputated.
In Canada, human error is the cause of over 80% of deaths caused by electrocution and for the operators of construction vehicles, not seeing overhead cables poses a serious risk – even power cables carrying as little as 750 V can kill. Yet this can be entirely prevented with the use of appropriate vehicle safety technology.
Coming into contact with an electrical cable in a vehicle is a very scary prospect. While large rubber tires might help to insulate the vehicle and keep the driver safe from danger, the extreme heat from high voltage can cause tires to explode. The driver and other workers nearby are therefore all at severe risk of death or injury.
Vehicle blind spots are a major factor in the cause of such accidents. The complex shape and size of many commercial vehicles and machines greatly limits the driver's visibility, making accidents much more likely.
In recent years, reversing and warning alarms along with back up cameras and radar have helped to combat many of the issues involved in using vehicles and specialist equipment on construction sites, particularly in the case of blind spot collisions. However, although these devices are highly effective for detecting objects, such as the structures that keep high voltage cables in place, they cannot detect the cables themselves. This requires the additional assistance of a high voltage overhead cable detector or "wire-watcher".
Alongside all round vehicle visibility and radar obstacle detection, which has been proven to reduce collisions in the industry and improve safety considerably, wire-watchers will warn drivers via a roof-mounted aerial of the proximity of overhead cables and alert the driver by flashing a warning light and sounding an alarm whenever a cable is detected. Since the introduction of wire-watchers, it is estimated they have saved thousands of lives and prevented numerous injuries.
As well as robust health and safety policies and procedures, safety technology can save a great deal of time and expense, but most importantly it will save lives.
Depending on the circumstances, the fines for companies that are involved in workplace deaths and injuries vary from tens of thousands to millions of dollars. However, the human cost and lifelong suffering of the victim's family and friends is absolutely immeasurable. It is this that truly puts tragic, yet preventable, workplace accidents into perspective. Investing in vehicle safety technology is a small price to pay for the wellbeing of Canada's workforce.
Source: Brigade Electronics