First Class Attachments Introduces the TSS 100
Sidewalk Spreader from RMEC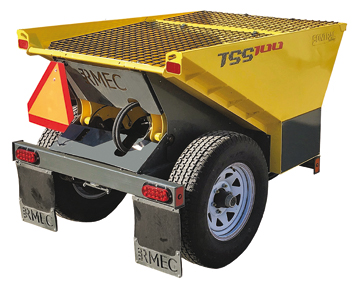 The TSS 100 is designed by RMEC Inc. to enhance safety, improve performance and streamline maintenance, all of which helps users control costs and reduces down time. These sidewalk spreaders have low overall weight and large-diameter wheels and tires that reduce damage and wear on pathways and roads while providing excellent ground clearance.
Maintenance is simplified, with 2 easy-to-reach ports that deliver grease to all pivots and bushings without needing to reach into awkward locations. Additionally, spreader wear parts are readily reached from one side of the trailer, speeding replacement and reducing the risk of injury from climbing under or inside the equipment. A removable bulkhead allows convenient access to the hopper for maintenance.
The electrical system is designed to be user-friendly, with a single junction box located near the front of the hopper, making plug changes to different machines quicker and easier. The TSS 100 is equipped with closed-circuit surge brakes which operate without an electrical connection to the towing vehicle.
RMEC introduced the TSS 100 in 2018 in response to a gap in the range of equipment available for municipal-level sidewalk maintenance. Previously the company had built a reputation for heavy-duty excavator accessories, including buckets, thumbs, couplers, rakes rippers and hammer attachments. The TSS 100 is built to the same standards of toughness as the excavator tools.
First Class Attachments Inc. (FCA) is proud to welcome RMEC to its family of municipal and institutional maintenance attachments. With its experience in industrial design, RMEC brings a strong focus on quality and design features that have a positive impact on tool life and attachment performance.
FCA is an independent distributor of attachments and always on the lookout for innovative and high-quality machines to add to the portfolio. With FCA, users will find it easier to locate and acquire all the attachments needed for almost any job.
Source: First Class Attachments Inc.