Manitou Expands Industrial Forklift Range for North America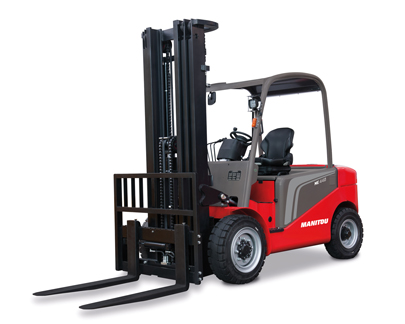 Manitou introduces an expanded offering of industrial forklifts for the North American market. Diesel machines make their debut with 8 internal combustion diesel models joining the Manitou MI Industrial Forklift Range. An additional 4 new electric models are also now available, expanding the Manitou ME Industrial Forklift Range. With the addition of these new machines, Manitou's industrial forklift line for North America now includes 12 models in the MI Industrial Forklift Range and 14 models in the ME Industrial Forklift Range.
"Expanding our offering of industrial forklift models in North America allows us to provide handling solutions for even more unique industries and applications," said Chris Mathijs, director of sales for Manitou products, Manitou Group. "We are especially excited to offer a diesel option for those customers that require an efficient and ergonomically-designed forklift suitable for many different lifting applications from lumber to concrete to tiles and bags and other outdoor uses. Our new forklift ranges are environmentally-friendly with optimal safety features and easy maintenance."
The new diesel-powered industrial forklift models, with lift capacities ranging from 3,629 to 9,990 kg, offer new medium and high capacity options in range. These machines are designed for heavy-duty applications indoors or out. The tires, engine power and robust components sustain intense use in storage, production and distribution industries. All new diesel models have a maximum lift height up to 6 m.
The ME 440, ME 445 and ME 450 add greater lift capacities to the line, providing options that can handle 3,650 to 4,989 kg. They feature 4 wheels, an 80 V battery, 34 hp lifting motor, and a maximum lift height of 6 m. The ME 315C provides a smaller 3-wheeled option. This compact machine can easily maneuver through isles as narrow as 312 cm. It is powered with a 24 V battery and 11.5 hp lifting motor.
Manitou industrial forklifts are focused on user expectations for simplicity, comfort, reliability and efficiency, while keeping the lowest possible operating cost. They are equipped with high-performance engines, a monobloc chassis and multiple mast options. The simplicity in design provides easy access to components, thus lowering maintenance costs. Manitou strategically routes the hose on the forklift mast and provides a honeycomb roof to ensure maximum visibility and safety. Operators will also appreciate a lower and wider anti-slip step on each side of the forklift to ease access.
Source: Manitou Group