PALFINGER Presents Its First Crawler Crane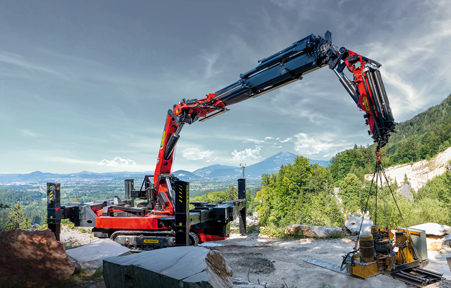 At the IAA Commercial Vehicles show in September in Hanover, Germany, the PALFINGER Crawler Crane PCC will make its world première. The all-rounder on a crawler chassis is initially available in 3 variants of about 50 to 115 tm.
PCC stands for PALFINGER Crawler Crane – the first PALFINGER crane mounted on a crawler chassis – offered as a holistic concept.
The crawler crane achieves its full potential not only on difficult terrain but also with gradients of up to 60%. Being around 40 cm narrower than a conventional truck, it offers new lifting potential even in confined areas where one centimeter extra can make all the difference. Thanks to the knuckle boom that can be angled upwards, the high lifting power and compact dimensions, the PALFINGER Crawler Crane PCC is also the perfect system for use in urban areas as well as in the industrial and indoor sector. The crawler allows the crane to be quickly repositioned on construction sites as and when necessary. Another advantage is that the crawler and crane can be controlled, transported and operated separately, which is particularly useful in situations where weight restrictions apply. The crane module can also propel itself on its own stabilizers without the crawler – a process also known as "shifting". If necessary, the PCC can also be mounted onto a transport truck. This means greater utilization and maximum flexibility with maximum power for the user.
The first crane manufacturer to offer the crane and crawler from a single source, PALFINGER creates clear added value for the customer. The 3 modules (crawler, crane and counterweight) can be individually combined and operated optimally for a diverse array of tasks. The modules are perfectly matched, while the interfaces and functions have been thought through right down to the very last detail. For servicing, maintenance and training, one contact person has been appointed for the entire device. Initial training by factory personnel when the device is handed over and, if desired, assistance with the initial jobs, round off the service package. This, too, saves time and money.
Source: PALFINGER AG