Straightpoint Relaunches Clamp-On Line Tensionmeter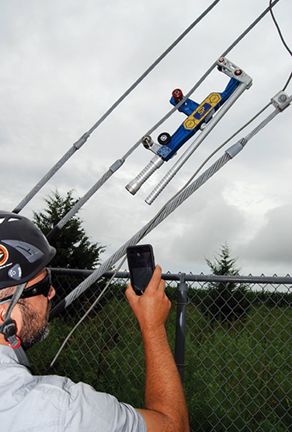 Tower erection, maintenance, and service professionals have welcomed the release of an updated version of Straightpoint's Clamp-On Line Tensionmeter (or COLT). Updates to the accompanying Bluetooth load-monitoring app are among a host of new features.
The COLT measures tension on wire rope up to 5,000 kgf (11,000 lbf) and up to 25 mm diameter. It clamps onto pre-tensioned wire ropes, eliminating the need for additional sheaves or tooling, as is the case with alternative solutions. An integral Bluetooth module, meanwhile, transmits tension data wirelessly to any smart device running the Android or iOS app that also contains an infinite wire rope library. Tension in wire ropes can be measured and logged within a few seconds.
Given the nature of work in this sector, where wind and other elements are of critical concern, a notable feature of the updated COLT is its ability to automatically fetch local weather conditions (temperature, wind speed, and wind direction), which is added to the data in the logging report. This is in addition to the app already grabbing GPS coordinates. In fact, said David Ayling, director at SP, this is the new version's standout enhancement.
"Professionals in this challenging market need to be acutely aware of all hazards that might impact their work; it is a very dynamic environment," he explained. "Foundations, corrosion, structural overloading, climb path obstructions, weather conditions, and much more must be monitored, logged, and accounted for. The technologically advanced COLT helps in some of these important areas and adds traceability, which is tantamount to safety."
Enhancements to the sheave offer users even greater performance, repeatability, and accuracy.
The COLT has already excelled in the field including applications involving tower and stack guy wires; pretensioned cable barriers; zip lines, bridges; elevators; winch rope; overhead electric transit wires; fall arrest systems; aircraft cables; and utilities projects.
Source: Straightpoint