N&A James Puts Terex® AC 40/2L All Terrain Crane to Work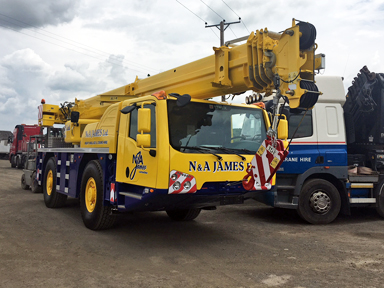 Crane rental and heavy haulage specialists N&A James Ltd. recently took delivery of a new Terex® AC 40/2L all terrain crane. The company is growing steadily, and this new versatile 2-axle crane will help the team meet the needs of their customers.
"We were pleasantly surprised with how fast Terex Cranes was able to help us identify the right model and deliver a new unit to our yard," said Kevin Green, manager for N&A James. "Our Terex Cranes salesperson, Tim Leech, got us what we needed fast, and we appreciated that."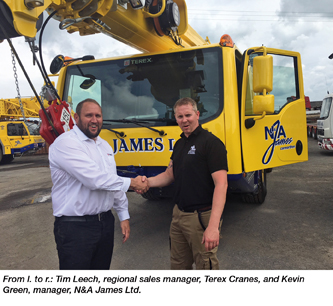 The Terex AC 40/2L crane is the most compact unit in the 40 t capacity class and is well-suited for operations in constrained spaces. It has a main boom length of 37.4 m and overall system length of 45.4 m, and with a total length of just 10.8 m and travel speed of 80 km/h, the Terex AC 40/2L crane can travel on public roads with ease.
Committed to maintaining the industry highest standards, N&A James puts a lot of research into the equipment they purchase. The Terex AC 40/2L all terrain crane's impressive load charts, maneuverability and durable construction is a perfect fit for this industry leader.
N&A James is a family-owned company established in 1954 in Carmarthen, UK. The company specializes in heavy, and crane hire with cranes ranging in size from 18 t to 130 t and vehicles capable of hauling up to 150 t.
Source: Terex Corporation