Unimog at the 2018 Interforst Show for the First Time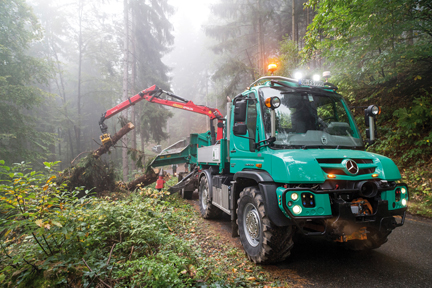 The Interforst show, held this year from July 18-22, in Munich, Germany, is the leading international fair for the forestry sector. At 4-year intervals it presents future-oriented solutions for the entire timber and forestry sector. A total of 451 exhibitors displayed their products on an area of over 70,000 m2.
Mercedes-Benz Special Trucks was exhibiting the Unimog for the first time with its own stand at Interforst.
The universal implement carrier is tailor-made for year-round use by municipal forestry departments, private forest owners, forestry managers and contractors.
The exhibits highlighted the great flexibility of the Unimog in forestry applications:
Unimog U 529 with a Fliegl 2-axle tandem push-trailer;
Unimog U 530 long wheelbase equipped with a Schliesing front-mounted chipper, a Huber cable winch and high-level bucket loader;
Unimog U 530 with a Werner height-adjustable cab for the operation of the body-mounted crane and the Jenz towed chipper.
As a universal, professional implement carrier with a high payload and towing capacity, the Unimog is available for use on 365 days of the year, and dependably takes care of a wide variety of applications related to forest management. In the spring it helps to maintain paths, in the summer it maintains wooded and green areas, in the autumn it chops timber and in the winter it clears the roads and paths of snow.
Its compact dimensions make it particularly maneuverable – an important criterion when things get tight during the care and maintenance of forests, grassed areas and networks of paths. Auxiliary rear axle steering is available to reduce the already small standard turning circle by a further 20% or so, which further improves maneuverability.
Source: Daimler AG