Call The Ditch Doctor!
The Ditch Doctor™ excavator attachment is now able to tackle both wet and dry material. The Nova Scotia-based attachment company has adapted its original design to incorporate a scroll case that allows the Ditch Doctor to expand its capabilities.
"The old one worked in wetter conditions, which had limits," said Adam Fisher, the creator of The Ditch Doctor™. "The new one will work in semi-wet to dry conditions. It opens up a whole new industry, which would be municipal roadways and municipal drainage."
The Ditch Doctor attaches to a 13 – 20 t hydraulic excavator and uses a rotary wheel to grind silt or plant material that is settled in the ditch. As the attachment grinds, it also ejects the material onto either side of the ditch. In turn, the attachment immediately creates a viable ditch.
The Ditch Doctor attachment is also capable of creating a 2-stage ditch and works in up to 1 m of water. Mr. Fisher compared the scroll case to a battery on a drill that is interchangeable with other products.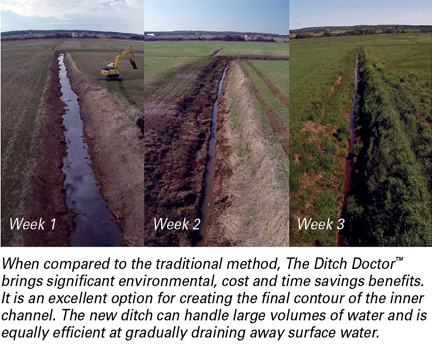 "It can be replaced to do different jobs. It's a multipurpose attachment now. We have some plans on implementing some other scroll cases to do some different jobs as well."
The first new version of the attachment was sold to a contractor in Ontario to tackle wetland management and municipal roadways.
Adam Fisher operates his own dredging business in Glenholme, Nova Scotia. About 17 years ago he began designing the Ditch Doctor attachment to help with ditch remediation. Throughout the early 2000s the Ditch Doctor was field-tested through jobs at Mr. Fisher's business. Adam Fisher eventually decided to manufacture the attachment and sold the first unit last year. As the attachment shoots the obstructing material onto the ditch embankment, the spoil is self-levelling, eliminating the need to truck the material away to another location. The method also avoids destroying vegetation on the ditch slope, which helps prevent erosion. Ditch-side vegetation generally grows back within 2 to 3 weeks. The attachment requires similar hydraulic power as a flail forestry mower.
Source: The Ditch Doctor