Record number of visitors at APEX
The 6th APEX exhibition, held in Maastricht last month, was a big success with a record number of visitors. More than 5300 industry professionals from 44 different countries attended the show, which is 25% higher than the figures for the previous show in 2005.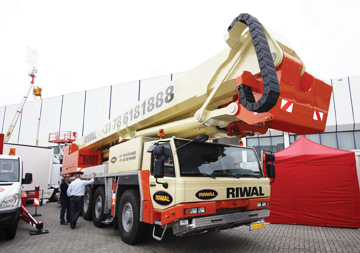 Despite the economic uncertainty - and with major access manufacturers anticipating a slowdown in 2009 - there were companies buying equipment at the show, including some from fast-developing rental firms in eastern Europe, the Middle East and Asia Pacific.
The show was notable for the number of new products on show. In addition to the Beijing Jingcheng products, new launches came from Skyjack, Genie, JLG, Nagano of Japan, UpRight, Palfinger, Bronto, Ruthmann, Oil & Steel, Multitel Pagliero, Teupen and many others.
The APEX conference was also a success. The Keynote Address was given by Skyjack president, Ken McDougall, who spoke on the role of the OEM in today's access market. Other speakers covered new European standards for MEWPs, machine telematics, battery maintenance, and aftermarket technology. The next APEX show will be held in 2011.