Atlas Copco Introduces New Solid Body Breaker SB 302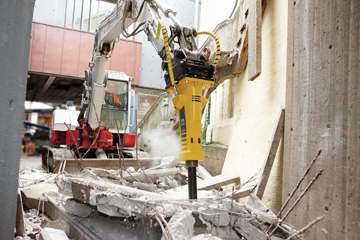 With sales of more than 10 000 small breakers in the 50 to 550 kg class last year, Atlas Copco SB breakers are clearly the worldwide number one choice for use with excavators of under 15 t. Three years ago, the company launched the first of the new generation of solid body breakers based on a new manufacturing method and new body design. Atlas Copco are now launching the mid-range model, the SB 302, for excavators of up to 9 t.
Atlas Copco's solid body breakers are internationally recognized for their superior durability and reliability. They are used for road work, trenching, general demolition, plus primary and secondary rock breaking. Thord Wikström, Product Line manager says: "One of the most important features in the new design of our 300 kg breaker is the floating bushing which makes service and maintenance really easy. The new SB 302 brings many advantages to the operator such as higher impact rate thanks to its higher efficiency. Compared with previous models, the new body design generates lower vibrations and less noise to meet the high expectations of our customers."
The new SB 302 is as tough and reliable as the other breakers in the SB range. Mr. Wikström continues: "A solid body breaker is machined from a single block of metal. This method provides a number of benefits, such as no side or head bolts and a unique resistance to bending forces and operator abuse. Another advantage is fewer parts and less maintenance."
The slim design of the SB 302 makes positioning easy. The compact dimensions also facilitate working in confined applications such as indoor demolition work, along house walls and in narrow trenching. The SB 302 offers the highest performance and breaking power in its class thanks to a new hydraulic system that delivers higher efficiency and improved energy recovery.
Conny Sjöbäck, Technical Development Manager, concludes: "We are proud to launch the sixth model in the new solid body range which represents an advancement in our state-of-the-art technology. By further developing the solid body concept, we have created the SB 302 to help boost the productivity of our customers."
Source: Atlas Copco Construction Tools