Daimler AG at the 62nd IAA Show in Hanover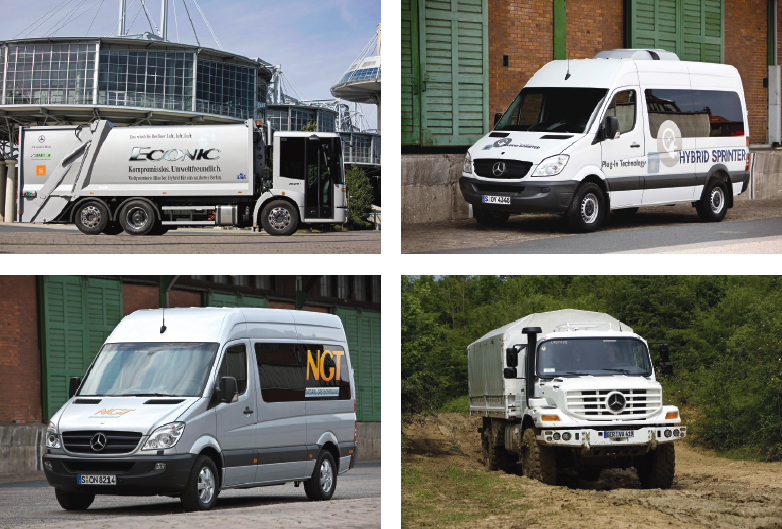 The presentations by the commercial vehicle brands of Daimler AG at the 2008 International Commercial Vehicle Show in Hanover underlined the company's claim to the number one position among manufacturers worldwide.
In total, 11 500 m2 of display area showcased the comprehensive range of vehicles from all over the world from Daimler Trucks to Mercedes-Benz.
An "exhibition within the exhibition" showed how serious the company is about the environment. Four hybrid vehicles from three continents are representative of this commitment. The Mercedes-Benz Axor Hybrid study is celebrating its world premiere, the Freightliner Business Class M2e Hybrid is shortly due to enter series production, the Mitsubishi Fuso Canter Eco Hybrid is already in series production and the Mercedes-Benz Sprinter Plug-In Hybrid is currently undergoing customer trials.
Daimler AG's leadership in the field of environment compatibility was once again shown at the IAA. Among alternative drive systems on display, the natural gas-powered Sprinter NGT - already in series production - and the Sprinter Plug-In Hybrid concept, show great promise.
The Sprinter NGT is powered by a 1,8 l supercharged four-cylinder that generates 156 hp in either petrol or gas operation. The truck is equipped with a manual six-speed transmission as standard, with an automatic torque converter transmission available as an option.
The Sprinter Plug-In Hybrid is designed as a parallel hybrid with an electric motor between the internal combustion engine and the automatic transmission. The architecture also envisages an unmodified 100 l petrol tank between the axles. A stack of lithium-ion batteries located immediately behind the rear axle provides the electric capacity. This battery technology halves the weight to just 175 kg compared to the nickel/metal hydride batteries used in first generation hybrids.
The new construction Actros, equipped with the new Mercedes-Benz PowerShift Offroad automated transmission, made its world debut.
Among the special-purpose vehicles, the Mercedes-Benz Zetros occupies a commanding position. This all-wheel-drive, cab-behind-engine truck is uncompromisingly configured for operations in harsh conditions. Whether for expeditions, as a service vehicle, on large construction sites, in disaster relief or on peace missions - this all-terrain truck looks like it is in its element when others have to throw in the towel.
Source: Daimler AG