New Arrival in Peterborough County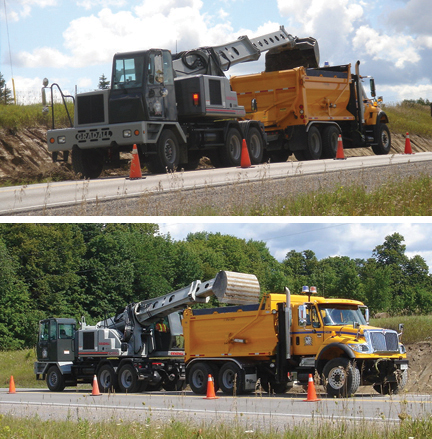 With Autumn upon us and the children back to school, there is something else new they will see on their daily bus rides in Peterborough County.
After much deliberation, the County of Peterborough has sought to usher in a new age with delivery of a Gradall XL-4100-III. This unit replaces an aging G660 model that has given sterling service to the county. "We looked at all our options, including a major overhaul of the old machine, but in the end chose to catch-up with current technologies," said county engineer Chris Bradley.
Gradall, part of the Alamo Group of companies, has a long established reputation in the municipal marketplace. The only excavator that can propel itself at speeds of 80 km/h or more and access hard to get, off-road job sites too, make it an ideal tool for counties, utilities and other governmental agencies and contractors. The unique telescopic, low-profile boom, available with 360° wrist action, can manoeuvre in the tightest spaces. It is this Gradall trait that has confirmed its place in ditching, brushcutting and roadway maintenance work.
"The rise in interest in rubber tire equipment has seen several "wannabes" come into the offing in the last decade. A conventional rubber tired excavator was never designed for long trips and multi-terrain tasks. The concept of the self contained machine, able to travel from site to site at high speed has yet to be matched. A truck-style configuration also permits towing to further enhance machine performance," according to Jeff MacDonald of Amaco Equipment.
Auxilliary hydraulics, quick coupled attachments, and other features allow users to configure the Gradall to suit themselves best. "There has even been interest from woodlot owners and commercial thining contractors for a unit that can harvest and thin without requiring special roads and accessways and minimizing environmental impact," according to John Logan of Gradall.
The County of Peterborough, home to the pre-historic Petroglyph Provincial Park, and the world's highest hydraulic liftlock, now has Canada's newest innovation to contribute to infrastructure maintenance.
(R.H.)