The First Ever Gas-Powered Utility Vehicle from Kubota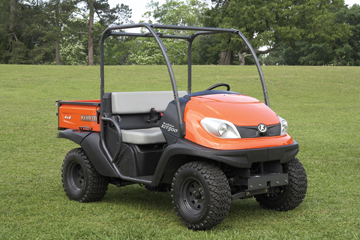 Kubota introduces the new gas-powered, RTV500 compact utility vehicle that comes with the comfort, technology and refinement of a larger utility vehicle, but is compact enough to fit in the bed of a full-size, long-bed pickup truck. The RTV500 is powerful enough to handle the toughest challenges on rugged terrain. At 139 cm wide and 189 cm tall, the RTV500 gets the job done with a 15.8 hp, liquid-cooled, two-cylinder Kubota gas engine, four-wheel drive, and a top speed of 40 km/h.
Unlike ATV-based powerplants that require constant throttle adjustments to maintain RPM levels, the Kubota GZ460FE3UV engine features a liquid-cooled, twin-cylinder design that ensures smooth, quiet, consistent power delivery throughout its powerband. The electronic fuel injection further improves engine performance by providing quick, easy starts, even in the most severe weather conditions, as well as on-demand power, optimized acceleration.
The RTV500 comes standard with Kubota's exclusive new "VHT Plus" variable hydrostatic transmission, which eliminates the need to adjust belt drives and provides smooth, reliable transmission-assisted braking and hill-holding capabilities. Weighing a modest 580 kg, the RTV 500 can handle upwards of 200 kg or 0,25m3 in its metal dumping cargo box. The RTV500 can tow up to 500 kg.
The durable bench seats are roomy and comfortable, the dash layout is simple and intuitive and the flat floor provides lots of unobstructed legroom. The standard, integrated Roll-Over Protective Structure (ROPS) meets OSHA 1928.53 rollover protection standards.
The Kubota RTV500 features an extensive list of optional accessories and implements, including a state-of-the-art modular cab, rugged 152 cm snow blade, 1133 kg capacity winch, work lights and more.
Source: Kubota Tractor Corporation