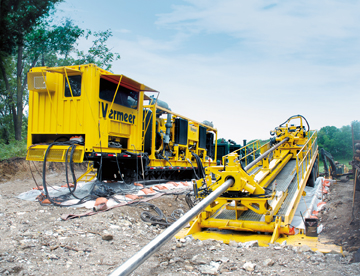 Vermeer Introduces Maxi-Size Drill Rigs
Vermeer Corporation has expanded its complete line of NAVIGATOR® horizontal directional drills with the introduction of three maxi-sized drill rigs - D500x500, D750x900 and D1000x900 - designed specifically for large diameter pipe installations. The new units feature pullback forces of 225 000 kg, 337 500 kg and 450 000 kg.
The drill platform is built upon the proven and reliable Horizontal Rig & Equipment (HRE) design, acquired earlier this year by Vermeer.
To allow the contractor to focus on performance, the drills feature a simple, proven design that eliminates the number of drive components, including high-speed motors and reduction gearboxes.
High-torque, low-speed hydraulic motors power the rotary and carriage drives. On the rotary drive, a single through shaft motor turns the drill string and downhole tooling.
Source: Vermeer Corporation