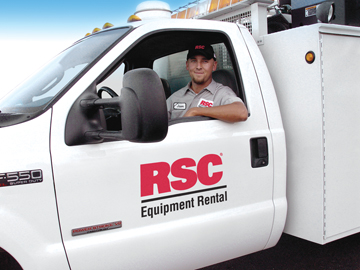 RSC Equipment Rental at MINExpo
RSC Equipment Rental hosted a case study to spotlight a leading international mining company at MINExpo International 2008. The event, held from September 22-24 in Las Vegas. showcased RSC's people, services and equipment while highlighting innovative programs that set RSC apart from the competition.
The case study introduced RSC's new Integrated Services Group, a team of professionals that provides an array of new services to meet the unique needs of many industrial customers and illustrates how RSC's Total Control®, a program that allows you to manage your fleet, your costs and your time more efficiently, has successfully streamlined the management of a mining company's fleet.
RSC's booth also featured a Mobile Tool Room, a portable unit custom-stocked with all the tools, small equipment and hardware necessary for a specific project.
Company leaders were on-hand to extend their appreciation to customers. They also talked in greater depth about RSC's equipment, services and technologies to help resolve five key industry issues: controlling costs, boosting productivity, on-time delivery and pickup, maintaining safety and equipment maintenance.
Source: RSC Equipment Rental, Inc.