JJE Adds Toro Products to its Offering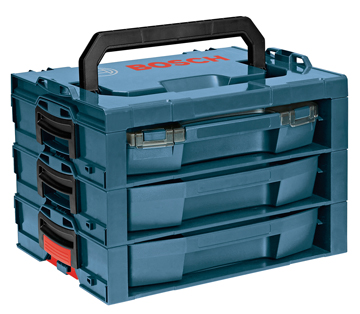 As the newest addition to Bosch Power Tools' customizable Click & Go™ system, the L-Rack allows professionals to expand their current storage system for increased organizational capability and versatility. The L-Rack features convenient single-click stacking and can be used to add additional storage to L-Boxxes or to create a custom organization system. The Click & Go storage system continues to help users stay organized and get tools on and off the jobsite faster, so they can spend less time setting up and more time being productive.
The L-Rack is available as a standalone system or as individual pieces. The standalone system comes complete with one i-boxx53 thin tray, two LST72-OD drawers, three L-Rack shelves, and one L-Rack-T top carry handle. While this system can be expanded by adding additional shelves, it is not meant to be taken apart. Alternatively, users can purchase the L-Rack-S and L-Rack-T, which are compatible with L-Boxxes and L-Boxx trays. Contractors, plumbers, electricians and HVAC professionals can mix and match any of the above items to create their own personalized storage solution to meet individual, company, trade or job-specific needs to work easily and effectively.
To maximize the L-Rack's organization capabilities, Bosch also offers the ST72-OD, a thinner drawer that offers users quick-access storage, as well as four new organization sets. The newest generation of modular organizers makes it easy to sort and store large quantities of smaller consumables, creating the ultimate portable tool box. The new ORG53-Red and ORG72-Red 26-piece organizers are compatible with the i-boxx53 and i-boxx72, respectively, while the ORG1A-Red and ORG1A-Yellow 32-piece organizations systems fit the L-Boxx-1A.
The Click & Go storage system featuring the L-Boxx is available in 5 sizes and fully customizable with foam, plastic inserts, drawers and Exact-Fit™ insert trays sold separately. Every L-Boxx quickly fits together with one-click stacking for easy handling and transport with the L-Cart and L-Dolly. The Click & Go system organizes more than 90,000 nuts and bolts and houses more than 100 types of power tools, making it the ultimate in customized organization and efficiency.
Source: Bosch