Caterpillar Selected for Standby Power at Grand Central Terminal to Improve Public Safety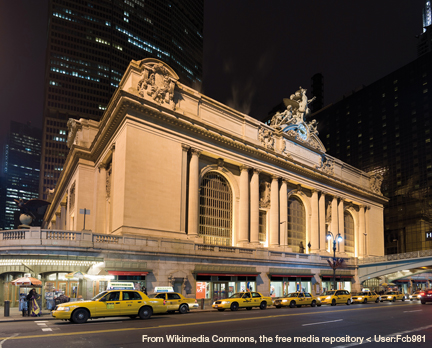 Caterpillar Inc. announced today that the company was selected to provide equipment for emergency standby power generation to New York City's historic Grand Central Terminal, operated by the Metropolitan Transportation Authority (MTA). The facility was outfitted with two 2,000 kW Cat® 3516 diesel generator sets and paralleling switchgear to add significantly more backup generating capacity. Installation was handled by Cat Dealer H.O. Penn, which is located in downstate New York and Connecticut.
The New York Power Authority (NYPA) managed the design, procurement and installation of the two generators and switchgear for the MTA. The project was intended to provide an additional level of security to Grand Central Terminal in case of problems on the electric power grid that could affect the transportation hub's electricity service.
The new backup generators accept ultra low-sulfur fuel, in correlation with MTA's air-permitting restrictions. Another NYPA provision was that the generators, switchgear and load bank were required to be completely factory tested to ensure all emergency power, load sharing and paralleling capabilities were fully functioning together prior to shipment, to avoid complications that could arise in an underground rail tunnel. All components were carefully transported to Grand Central Terminal on rail cars then reassembled on site.
"The combination of the Cat generators and switchgear coupled to a customized maintenance package will provide the highest level of backup security in the industry," said John Callahan, Power Systems Vice President at H.O. Penn. "We are proud to provide an additional level of safety for the public at such an iconic landmark in New York."
This power upgrade was part of an initiative that included the Metro-North Railroad Capital Budget, which received funding from a federal grant through the New York State Division of Homeland Security and Emergency Services. The initiative supports the state's critical infrastructure against blackouts, future extreme weather events like Superstorm Sandy and other potential threats to public safety, with emergency preparedness a top focus of New York Governor Andrew M. Cuomo's administration.
Grand Central Terminal stands as one of America's greatest transportation hubs and one of New York City's most iconic buildings. Over the course of a colorful and tumultuous 100 year history, Grand Central has gone from being simply the start and end points of long distance rail travel, to being the iconic home of Metro-North Railroad and a destination for commuters, tourists, and residents that boasts restaurants, cocktail lounges, a gourmet market, and numerous specialty shops.
Source: Caterpillar