Overground @ ICUEE
The International Construction & Utility Equipment Expo (ICUEE)
was held in Louisville, Kentucky, October 1-3, 2013.
New Cat® D Series Compact Track Loaders and Multi Terrain Loaders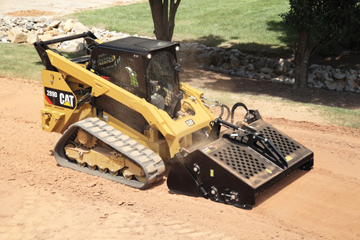 Caterpillar is introducing three new Cat® D Series Compact Track Loaders and three new Cat D Series Multi Terrain Loaders as well as two updated D Series Compact Track Loaders. The new and updated machines feature a completely new cab with first-in-class designs that enhance operator comfort and control, new lift arm design for improved sight lines, and increased engine performance for greater productivity. The six new D Series models are replacements for their B3, C and C2 Series predecessors.
The eight D Series rubber-track loaders range in rated operating capacity (50% of tipping load) from 1,270 kg to 2,109 kg. Mid-size frame models, as narrow as 168 cm, are the 257D Multi Terrain Loader (MTL) and 259D Compact Track Loader (CTL). Larger frame models are the 277D and 287D MTLs and the 279D and 289D CTLs. These six D Series models feature an electronically controlled 3.3 l engine that meets Tier 4f emissions standards. The Cat C3.3B engine provides 74 hp with 8% more torque and 6% improved fuel economy compared to the previous models.
The largest D series models, the 299D and 299D XHP CTLs, were launched in early 2012 and continue to be powered by an electronically controlled 3.8 l engine, which meets Tier 4i emissions standards. The Cat C3.8 produces 98 hp for the 299D and 110 hp for the 299D XHP, which powers an auxiliary hydraulic system producing as much as 150 l/min of flow at 28,000 kPa (4,061 psi) to handle the most demanding powered work tools. The 299D and 299D XHP also receive the new cab environment and features as well as the new lift arm design.
The D Series models introduce a new standard in sealed and pressurized cab design. The cab and operator station incorporate many new features. Seat options include a high-back, heated, air-suspension seat that incorporates industry-exclusive integral seat-mounted joystick controls. The standard control monitor provides a single-code security feature that helps prevent theft and unwanted operation. The industry exclusive Advanced Display control monitor expands the number of codes to 50 and can store and recall the operating preferences for each one. The Advanced Display is video capable and supports the first integrated rearview camera ever offered on compact track loaders.
Also new in the D Series cab is an electronic dial-type throttle that permits precise rpm settings. A new throttle-smoothing feature monitors accelerator-pedal movement under the operator's foot when the machine is traveling over rough terrain, and it then clips the extremes of pedal travel to yield steady, even travel speeds.
The D Series models feature the Cat Intelligent Leveling™ (ILEV) system, which provides a number of industry leading features, including dual self-leveling, electronic snubbing, return-to-dig and work tool positioning.
Lift arms for all D Series machines are a new tubular design that retains excellent lift characteristics and strength while presenting a narrower profile. The sleek lift arm design improves sight lines to the sides of the machine, to the tires and to the work-tool/coupler interface to provide enhanced visibility and site safety.
Source: Caterpillar
New BRUTUS Model Enhances Operator Experience
Polaris Industries Inc. has expanded its purpose-built commercial vehicle line, Polaris® BRUTUS™ to include the BRUTUS base model with cab, heat and air conditioning, which is now available for order through authorized BRUTUS dealers in North America.
In March 2013, Polaris introduced the 3-model BRUTUS line-up as the first side-by-side utility vehicle in the market to deliver front-end power take-off (PTO) capability. The new BRUTUS model enhances the level of comfort, versatility and productivity by integrating key offerings from the BRUTUS HD and BRUTUS HDPTO models.
"Each commercial customer is unique; some require the ability to operate a complete line of hydraulic and PTO attachments, while others need a vehicle to transport and haul cargo," said Aaron Stegemann, Polaris business development manager for ORV adjacent markets. "The fourth model provides all the features that make the BRUTUS a true workhorse, while creating a more comfortable and productive year-round operator experience."
A fully enclosed, factory-installed cab with heating, defrost and air conditioning ensures operators are comfortable no matter what the outside conditions. As the only BRUTUS with an all-season climate controlled cab equipped with seating for three adults, the new model's slide-through access makes it easy for passengers to enter and exit the cab. Also added to the new model is the electric bed lift for the pallet-sized cargo box, which is standard on the BRUTUS HD and BRUTUS HDPTO models.
The full BRUTUS line includes standard features that are ideal for commercial applications. A 24 hp diesel engine with hydrostatic transmission, On-Demand True All-Wheel Drive, and treadle pedal for seamless- and shiftless- forward and reverse travel, provide operators with the power and functionality necessary on the jobsite.
As the first side-by-side utility vehicle line to use a multi-link coil over De Dion rear suspension, BRUTUS delivers a superior ride quality, minimizes suspension sag when the 566 kg capacity rear cargo box is fully loaded and maintains class-leading ground clearance when trailering with its 900 kg towing capacity.
All models feature Polaris' exclusive Lock & Ride® cargo system, with a full line of cab, storage and vehicle protection accessories also available. BRUTUS vehicles come with a 12-month standard warranty.
Source: Polaris Industries Inc.
Terramac® RT9 Multi-purpose Crawler
Introduced by Terramac® LLC, a manufacturer of innovative rubber track crawler carriers, the Terramac RT9 multi-purpose carrier for the utility construction market was on display at the company's exhibit at this year's ICUEE. With an operating weight of 11,794 kg and a maximum carrying capacity of 8,165 kg, the RT9 is the largest mid-sized rubber track carrier that does not require special oversize permitting to transport the machine.
"Utility contractors and other utility professionals will appreciate the RT9 for its ability to travel across almost any terrain, low-maintenance undercarriage and minimal disturbance of the ground it covers," said Mike Crimaldi, CEO of Terramac LLC. "Equipped with front and rear bolt-on connections, this multi-purpose carrier can accommodate various types of specialized equipment for the job at hand. We can customize electrical power sources, frame adjustments and hydraulics to suit any attachment."
Ideal for carrying supplies and materials, the bed on the RT9 elevates to a 67° angle for dumping gravel, sand, dirt and other materials. The bed can fold down, allowing the operator to side-load materials or equipment for carriage across rough terrain, delicate soil conditions and remote areas.
Manufactured in North America, the CE-certified Terramac RT9 carrier can be customized to accommodate specific needs of utility contractors, direct from the factory.
Source: Terramac LLC
An Ergonomic, Safe, and Economical Solution For Dowel Pin Drilling
Minnich A-1 Series drills offer proven ergonomic benefits for dowel pin drilling applications, reducing operator fatigue and increasing productivity on the job site. Available in two models of single on-grade drilling units, the A-1 Series is quickly making a name for itself among road contractors.
Thanks to a number of important ergonomic benefits like the reliable, flat-proof tires for increased maneuverability, adjustable handles for operator comfort, easy-to-use controls, and minimal vibrations to reduce operator fatigue, the A-1 Series drills are engineered with a focus on safety and efficiency. The operator can also appreciate a conveniently placed foothold directly under the handle for increased leverage when drilling each hole.
In addition to the ergonomic benefits of the A-1 dowel pin drills, Minnich Manufacturing's A-1 Series drills contribute to contractors' bottom lines by keeping maintenance requirements to a minimum.
All models in the line are capable of drilling anywhere from 76 mm – 315 mm from the top of the slab.
Source: Minnich Manufacturing
Trelleborg introduces the SK-900 Non-Directional Tire at ICUEE
Trelleborg Wheel Systems introduced the SK-900 Non-Directional (SK-900 ND) skid steer tire at ICUEE.
The SK-900 ND is a skid steer tire designed to offer superior performance on concrete, asphalt and other hard surfaces. Better wear is achieved from the tire's deeper tread than a standard skid steer tire, and its flat profile with reinforced sidewalls gives maximum protection.
"SK-900 ND is designed to meet our four performance cornerstones of tire life, stability, energy savings and comfort, ensuring it offers the best total value of ownership. Each of the cornerstones have significant impact on the machine, the user and the value from choosing a quality product," said Ydo Doornbos, managing director Trelleborg Wheel Systems Americas.
"Trelleborg is focused on the needs of the construction industry today and tomorrow. Our goal is to provide products designed to perform in the toughest environments on the earth," he concluded.
MICHELIN® X® TWEEL® SSL Named a 2013 Silver Edison Award Winner
Earlier this year, Michelin North America, Inc. has received the Silver Award in the Transportation category at the 2013 Edison Awards™ for the MICHELIN® X® TWEEL® SSL. The award was presented during the internationally renowned Edison Awards ceremony held at Chicago's Navy Pier, in April 2013.
The awards, which were presented in 12 categories, symbolize the persistence and excellence personified by Thomas Alva Edison. Celebrating 26 years of honoring the best in innovation
and excellence in the development of new products and services, hundreds of senior executives joined some of the world's most recognized companies to acknowledge the hard work and commitment of all 2013 Edison Award winners.
"Michelin is extremely honored to have been recognized with such an important group of recipients," said Tim Fulton, head of Michelin Tweel Technologies. "We continue to be surprised and encouraged at the extent to which the innovation is generating excitement across many vehicle segments; the receptivity has been very strong and positive."
The TWEEL® is Michelin's highly advanced airless radial tire that is currently being sold in the marketplace for use on skid vehicles used in the construction, landscaping, contracting, refuse/recycling and agricultural industries. This non-pneumatic tire uses traditional radial tire technology but requires no air, thereby eliminating the risk of a "flat tire"
Source: Michelin North America
Takeuchi Introduces the Tier 4 Final TB 260 Excavator
Takeuchi US has recently introduced its newest compact excavator. The TB260 is a completely new model weighing in at just over 5,670 kg and features a reinforced long arm with integrated thumb mount that provides an impressive 3.9 m dig depth. The TB260 is equipped with a high performance, turbocharged engine that delivers over 47 hp smoothly and efficiently, while meeting Tier 4f emission requirements. Automatic-idle helps reduce fuel consumption and engine noise levels, lowering operating costs and improving jobsite communication, and when combined with the innovative ECO mode, fuel consumption can be reduced by as much as 21% in typical working conditions.
"Takeuchi is excited about this new excavator, and we look forward to providing today's contractors with machines that meet the requirements of their demanding jobsites," says Clay Eubanks, president of Takeuchi US. "We listen to our customers to understand the needs of the jobsite, we then take that feedback and channel it into our products to build quality, purpose built machines. No other machine on the market can deliver the value, performance and features found on the new Takeuchi TB260 excavator."
Source: Takeuchi US