Underground @ ICUEE
The International Construction & Utility Equipment Expo (ICUEE)
was held in Louisville, Kentucky, October 1-3, 2013.
TT Technologies Displays Latest HDD Assist Techniques at ICUEE
TT Technologies has developed several pipe ramming techniques to help prevent and salvage failed directional drilling bores. Properly configured Grundoram pipe rammers can be used to salvage product pipe after a failed bore, remove stuck drill stems and assist drills during product pullback, preventing hydrolock.
The Grundoram can also be used to install a conductor barrel casing in order to provide a starting point and friction-free pullback section for directional drilling in difficult soil conditions. TT Technologies offers 10 models of the Grundoram pipe ramming tools.
Source: TT Technologies, Inc.
McLaughlin Launches Second Generation Vacuum Excavator Product Line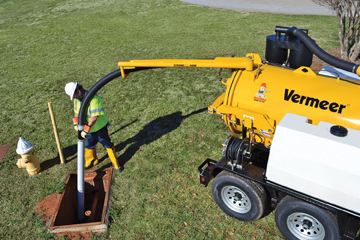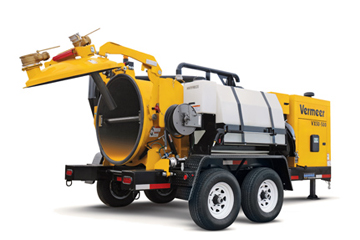 McLaughlin has introduced the second generation vacuum excavator series that offer efficient and clean-burning engines, improved sound reduction and operator-friendly enhancements in a low profile package.
Tier 4f engine technology provides enhanced fuel consumption and a new engine enclosure reduces engine noise levels. The soundproofing inside the heavy-gauge engine enclosure reduces vibration, while baffles dampen the engine sound before it is released into the atmosphere.
An improved external hydraulic door opens at an 85° angle, allowing for easier and faster dumping and cleaning of the spoils tank. A patented mechanical cam-over locking system provides a 360° positive door seal, even under reverse pressure, without additional clamping requirements.
The new units feature the McLaughlin industry-exclusive, 3-stage filtration system that allows for both wet and dry vacuum excavation. First, material enters the tank at 210 km/h where large soil particles lose velocity and fall out of the filtration system. Next, the air moves to a pre-filter cyclone where the remaining small particles drop into a collection tank. Finally, the pre-filtered air enters a washable micron-poly filter that traps the remaining fine particles.
Source: McLaughlin Group, Inc.
A New Eera in Horizontal Directional Drilling with the S3 Navigator HDD Line
Vermeer has introduced its first horizontal directional drill with a Tier 4f engine. The D9x13 S3 Navigator HDD – the first of the S3 generation of drills – features improved hydraulic efficiency and enhanced speed for greater drilling performance. The D9x13 S3 is designed for installation of utilities such as communication, power, gas and water, as well as some limited sewer applications. With the smallest footprint in its class, this machine is ideal for installation projects in congested urban areas.
The D9x13 S3 has a 44 hp Kubota engine, delivering 4082.3 kg of thrust/pullback and 1,760 Nm (1,300 ft-lbs) of rotational torque. A new hydrostatic hydraulic system for the thrust and rotation circuits increases the system efficiency, allowing better use of engine horsepower and increasing the D9x13 S3 productivity. This new hydraulic system also improves the ground drive speed by 60% over its predecessor, allowing the drill to move to various jobsites more efficiently.
Drilling speed has been improved with a 30% faster carriage speed than its predecessor, operating up to 57.3 m/min. Rotational speed is also increased to 190 rpm. An onboard pump delivers drilling fluid at 56.8 l/min at 51.7 bar (750 psi).
The D9x13 S3 is ergonomically designed fo maximum operator comfort. Electronic joysticks ease operator fatigue and helps improve efficiency. All S3 Navigator drills will have the new common control platform. This allows drill operators the ability to operate a variety of drills, and limits the time needed for training.
Source: Vermeer Corporation
Toro Introduces the DD2024 Horizontal Directional Drill
The new Toro® DD2024 horizontal directional drill combines a compact design with 9,072 kg of pullback force and 3,250 Nm (2,400 ft-lbs) of rotary torque. Powered by a 74-hp Cummins® B3.3 engine, the DD2024 delivers consistent and reliable performance in all operating conditions. Its quad rack and pinion carrier design spreads the load evenly for smooth and stable movement. The onboard mud pump flows up to 30 gallons per minute and the floating carriage has two speeds, including a 36 m/min fast mode.
The DD2024 is designed for powerful performance in tight working conditions. It has a footprint of 132 cm wide, 525 cm long, and a height of 188 cm. It has forward-mounted track drive motors with planetary gear reduction to provide superior traction in all types of ground conditions. The rear dual stabilizers can be independently adjusted to safely secure the unit during operation. For operator safety, the DD2024 uses a remote exit side lock out system and a Zap Alert™ system to notify the operator in the event of an electric line strike.
With flexibility to use single or dual stick controls while drilling, the DD2024 allows the operator to choose the control style that matches his or her preference. The operator station includes a backlit LCD screen that monitors a full range of system functions. Service is also easy with single-piece front and rear hoods that offer unobstructed access.
Source: The Toro Company
Ditch Witch® JT60 All Terrain Showcased at ICUEE
The Ditch Witch® organization featured the JT60 All Terrain Horizontal Directional Drill at ICUEE 2013.
Featuring a 200-hp, Tier 4i Cummins engine, the drill offers 27,215 kg of thrust and pullback and 12,200 Nm (9,000 ft-lbs) of rotational torque.
This All Terrain horizontal directional drill also features an industry-exclusive, patented two-pipe drilling system. Other features include the heavy-duty, planetary-driven anchor system and an exclusive, dual-pivot drill frame allowing the entry angles you need without compromising stability while drilling. This All Terrain horizontal directional drill will be released in December.
Source: The Charles Machine Works, Inc.