Pelli Clarke Pelli Architects Selected to Design Building
for Trinity Wall Street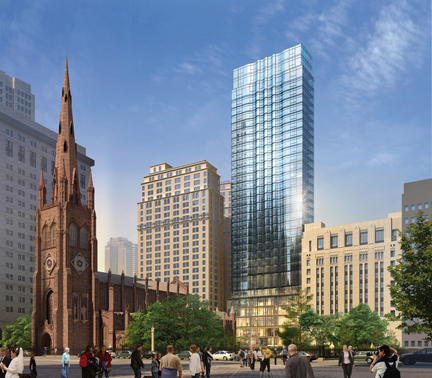 Pelli Clarke Pelli Architects has been selected to design a mixed-use development for Trinity Wall Street, the historic Episcopal parish in Lower Manhattan that dates to 1697.
Replacing the parish office building from the 1920s at 68-74 Trinity Place, the new building will include a six- or seven-story base to house mission programs and related offices, topped by a 25-story residential tower. The base will include a parish hall, the Sunday school and rooms for use by community organizations. Revenue from the residential tower will support the church's ministry and philanthropy.
"We are delighted to be able to engage the extraordinary talents of Pelli Clarke Pelli as we move forward in the design and development process to create an inspiring new mixed-use ministry building that complements Richard Upjohn's historic Trinity Church," said Rev. Dr. James H. Cooper, rector.
Trinity Real Estate, the entity that manages the parish's six million square feet of commercial property, will next select a developer. Trinity took the unusual step of selecting an architect first to underscore the importance of a design that respects the iconic Trinity Church and its surroundings.
"We are thrilled to receive this entirely unique assignment," said Cesar Pelli, senior principal. "This gorgeous jewel of a site, a very clear urban room with a natural landscape surrounding, is unlike any place else in the world. We look forward to a continuing exchange of ideas to create a building of its moment, next to a building for all time."
PCPA's preliminary design is transparent at the base to highlight the church's mission activities. Terrace gardens will recall the scenic churchyard. Access to the church from Trinity Place will be maintained via pedestrian bridge.
Construction is expected to begin in the fall of 2014. Completion is slated for 2017.
Source: Pelli Clarke Pelli Architects