Hydro-electrifying performance from Volvo
The world's largest hydroelectric producer, Hydro-Quebec, has contracted R&G St-Laurent Inc. to build roads and electrical substations for a new hydroelectric power station in Canada.
As its name suggests Ville de Baie-Comeau is a French speaking city that lies 420 km north-east of Quebec City in the Côte-Nord region of Quebec. Originally the site of a Catholic mission and the region's first mill, it is located on the shores of the Saint Lawrence River and is named after the adjacent bay in honor of famous naturalist, Napoléon-Alexandre Comeau.
Quebec-based equipment and civil engineering contractor, R&G St-Laurent Inc., is four weeks ahead of schedule in its biggest contract to date, thanks to help from Volvo Construction Equipment. R&G St-Laurent was established in 1969 by Real and Gilbert St-Laurent, as an excavation and trucking company.
Today the company is run by Real's sons, Yann and Patrick St-Laurent, and the business has grown along with its ambition over the intervening 40 years. One of its most significant recent tender successes is the ongoing contract to build four kilometers of access road, small sub-stations, and the transformers and associated towers for a new hydropower complex, owned by hydroelectric giant, Hydro-Quebec.
The work will result in moving over 500,000 t of granite and 600,000 m3 of soil. The contract will require R&G St-Laurent to use its entire fleet of 26 Volvo machines – four A40F and eight A35F articulated haulers, one EC700C, two EC460C and two EC330C excavators, three L120C, L120F and L220E wheel loaders, four compactors and two SD105DX soil compactors.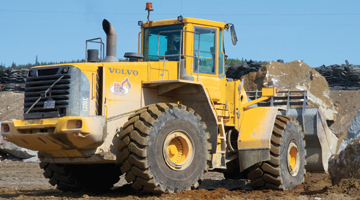 Outperforming expectations
The winter weather is borderline subarctic – the average temperature in December and January slips below -17°C and an average 3.6 m of snow falls every year. With this in mind the work is scheduled to be completed before December this year.
"Thanks to our team, favorable weather conditions and the excellent performance of our Volvo equipment, we are almost a month ahead of schedule," says Patrick St-Laurent. "We found that the machines made it much quicker than we expected. We were loading up 4,000 m3 every day."
Over half of Canada's electricity currently comes from hydropower and any excess power is sold to other countries. With over 40% of Canada's water resources located in Quebec, it is an ideal location to develop this renewable source of energy.
When Hydro-Quebec finishes at the Baie-Cameau site, it will provide 4,570 MW of power to the Canadian grid. That is not all – Canada plans to invest a further $70 billion into hydro-electricity in the next 10-15 years to generate 88,500 MW of power.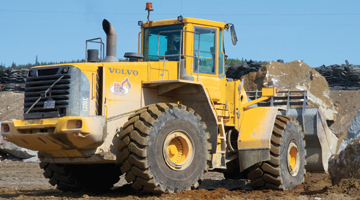 Waste not, want not
The benefit of hydro-electricity is that it does not release greenhouse gases and supply can be adjusted quickly to meet demand and prevent wastage. This sustainable method of generating power provides benefits to the environment – values that chime closely with Volvo CE's own core values. This ensures that Volvo machines comply with the relevant emissions regulations.
"We are constantly checking our machines' fuel performance against those of other manufacturers," explains Yann St-Laurent. "When we are working outside our region, the company must provide and pay for housing or accommodation for our operators in addition to their hourly wage. We know that under normal working conditions, with the Volvo machines, we can save enough on the weekly cost of fuel per machine to cover the cost of the operator's accommodation for that week."
R&G St-Laurent started its relationship with Volvo CE in 2005 when dealer Strongco invited Yann to visit the Volvo excavator manufacturing center in Changwon, South Korea.
"I was very impressed with the design and quality and as soon as I returned to Canada I ordered our first Volvo – an EC360B excavator – which we still use to this day," says Yann St-Laurent.
When completed, the site will measure 750 m long by 350 m wide – excluding the access roads – which R&G St-Laurent is building.
To tackle the multitude of tasks in the allotted time, the company has invested and expanded its fleet. This has resulted in the company not only staying on track but looking to complete the job before schedule – and before winter sets in.
Source: Volvo Construction Equipment