Bauer Realizes Remediation at Center Hill Dam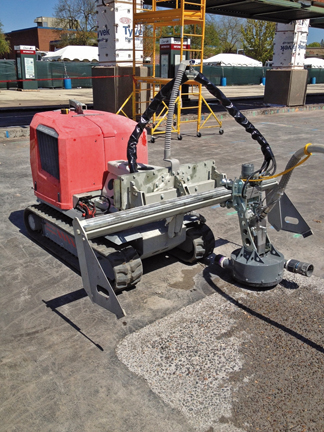 Aquajet Systems AB has introduced a new accessory for faster concrete surface preparation and shallow concrete removal on roads, bridges, airports, harbors, sewage pipes, water reservoirs and dams, etc.
The Rotolance 2500 provides a cost-effective, fast and environmentally safe process for applications that successfully compete with all other tools used for this application.
The mechanism of material removal by waterjets makes more controllable roughness, creates a better bonding surface, and can be easily adapted for any specific application.
The Rotolance 2500 is an ultra high water pressure tool (uhp) and is considerably faster than conventional manual methods of concrete preparation and removal. It also provides considerable labor costs savings.
Possible operator injuries, including "white finger"– caused by hand-held manually operated equipment – is also eliminated with the vibration-free tool. Dust pollution is also eliminated.
The new tool provides the same constant performance 24 hours/day and can be fitted to all Aqua Cutter robotic equipment.
Featuring a 350 mm working diameter and a recommended water pressure of 1100 - 2500 bar, the traverse and working widths of the Rotolance 1250 are guided on the Aqua Cutter robot and monitored by the on-board control system.
All parameters, controlling speeds and traverse movements are gradually adjustable from the control panel on the robotic unit for maximum utilization of the tool.
The unit's spray bar can be equipped with up to 20 nozzles. Its hydraulically-driven roller base features 4 wheels and a pinion traverse drive for ease of mobility.
The hydraulic package incorporates quick connections and a coated steel protection splash cover with a replaceable guard mounted over the swivel beam.
The Rotolance 2500 will operate and clean on almost any surface. Other applications include paint removal from steel and concrete, plastic and rubber removal, rust removal from, for example, ship hulls or steel storage tanks, and other industrial applications requiring a robotic high pressure tool such as road marking removal and industrial services in the petro chemical industry.
Source: Aquajet Systems AB