Sustainable Construction Awards Showcase
Resource Efficiency and Innovation
Architects Nader Tehrani and Katherine Faulkner of NADAAA in Boston, Massachussetts, received an Acknowledgement prize for the renovation and extension of the University of Toronto's John H Daniels building, a culturally significant 19th century structure in the center of Toronto, Ontario.
The Holcim Awards competition also seeks visions and bold ideas in the "Next Generation" category. The jury decided to confer an unprecedented 6 prizes in recognition of the outstanding quality of submissions from across North America. In the category of "Next Generation" prizes, Jonathan Enns from Toronto received an Award for an interlocking panelized timber building system.
The prize-giving ceremony hosted at Evergreen Brick Works in Toronto – a Holcim Awards prize winning project in 2008 – included the launch of Community-inspired housing in Canada, a book that illustrates the success of a former Holcim Awards winner and the evolution of how communities are designed and built.
A total of 13 projects from across Canada and the United States by leading practitioners, as well as young professionals and students, were recognized at the Holcim Awards ceremony 2014 for North America with total prize money of US$330,000. A jury of international experts led by Toshiko Mori selected the winners using the "target issues" for sustainable construction that consider environmental, social and economic performance - while also highlighting the need for architectural excellence and a high degree of transferability.
Infrastructure as architecture: Gold for water supply and flood mitigation infrastructure
Poreform, a water absorptive surface and subterranean basin that captures rain runoff and adds over 75,000 Ml (20 billion gallons) to the water supply capacity of Las Vegas won the top prize. Designers Amy Mielke and Caitlin Taylor of Water Pore Partnership (U.S.) reposition water infrastructure as a civic project. Capable of rapid saturation and slow release, the flood-control pores of this "urban skin" are inlets to a new infrastructure that reframes water as a valuable resource rather than a liability.
At the prize handover event in Toronto, jury member Mark Jarzombek praised the Holcim Awards Gold winning project for developing infrastructure as an architectural undertaking that is reclaimed as a truly public matter of concern, balancing social and design imperatives. "While designed for a specific site, the project offers a welcome answer to the general problem of water scarcity - a straightforward, but nonetheless beautiful proposition for a global challenge," he said.
Protective ribbon: Silver for urban flood-protection infrastructure
The BIG U project that addresses New York City's vulnerability to coastal flooding by using a raised berm and sequence of public spaces along the water's edge won the Holcim Awards Silver. The 13 km long infrastructural barrier to mitigate the impact of future storms with the devastating force of Hurricane Sandy was designed by a consortium led by architects Bjarke Ingels and Kai-Uwe Bergmann of BIG - Bjarke Ingels Group (Denmark/U.S.). The jury acknowledged the project's sensitive blend of hard infrastructure and local community needs.
Towering biotechnology: Bronze for a zero-carbon compostable structure
A cluster of circular towers formed using reflective bricks, designed for and commissioned by the MoMA PS1 Young Architects Program for construction in New York City received the Holcim Awards Bronze. The structure by David Benjamin of The Living architecture lab (U.S.) uses recent advances in biotechnology combined with cutting-edge computation and engineering to create new building materials that are almost fully organically-grown and compostable.
The jury applauded the investigatory nature of the project, both in terms of its objective to research innovative construction materials and their architectural potential using organic bricks, made of a combination of corn stalks and fungal organisms.
Acknowledgement prizes for projects in Toronto, Seattle, Boston and Los Angeles
In addition to the Toronto project, further Acknowledgement prizes went to a public park and interactive wall for urban revival in Seattle by Paris-based ABF-lab architects whose master plan reintroduces a forest in the heart of the city; to Sheila Kennedy and J Frano Violich of Kennedy & Violich Architecture of Boston for the Chrysanthemum Building, an affordable residential urban infill development in Boston; and to Peter and Hadley Arnold of the Arid Lands Institute, Woodbury University for Divining LA, a digital tool for urban design and water-use planning in Los Angeles.
"Next Generation" prizes for young professionals and students
The "Next Generation" 1st prize went to Debbie Chen (U.S.) for a municipal center for harvesting utility from waste in New York City. The jury greatly appreciated the idea to conceive a new type of urban infrastructure that offers an answer to the problematic interplay of material flows in urban environments.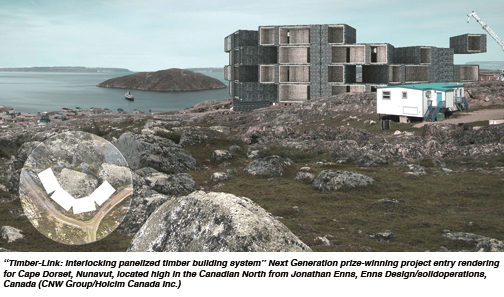 The "Next Generation" 2nd prize was presented to Kenya Endo of Atelier Dreiseitl Asia (Singapore) for a proposal to utilize former coal mining sites for hydro-pump electricity storage in Greene County, Pennsylvania. The 3rd prize was awarded to Beomki Lee, Suk Lee and Daeho Lee, students at the Massachusetts Institute of Technology (MIT), for an air purification wall that transforms carbon dioxide into oxygen and explores the possibilities of bio-mimicry. Additional "Next Generation" prizes were awarded to a group of students led by Mark Turibius Jongman-Sereno, Harvard University for an adaptive reuse of a parking structure for cultural activities in San Francisco; and Namjoo Kim at MIT for a new construction method for creating thin concrete panels.
Holcim Awards submissions for projects in North America were evaluated by an independent jury hosted by the MIT and included: Toshiko Mori (Head of jury, U.S.), Marc Angélil (Switzerland), Alain Bourguignon (United Kingdom), Dana Cuff (U.S.), Guillaume Habert (Switzerland), Mark Jarzombek (U.S.), Jeffrey Laberge (Canada), Lola Sheppard (Canada), and Sarah Whiting (U.S.).
Learning from Benny Farm in Montreal
A new book published by the Holcim Foundation examines two progressive and influential projects by Montreal-based architect Daniel Pearl and his team from l'OEUF and was launched at the Awards ceremony in Toronto. The approach to changing the way communities are designed and built tracks progress on the redevelopment of Benny Farm, the first ever Global Holcim Awards Bronze winner from 2006, a follow-up project at Rosemont, and plans for the forthcoming Bois Ellen Cooperative Residence. The projects include major innovations with respect to building envelope, energy efficiency, thermal comfort, and interior air quality that are rarely seen in this depth at this scale for affordable housing.
The Holcim Awards for Sustainable Construction competition seeks innovative, future-oriented and tangible construction projects to promote sustainable responses to the technological, environmental, socioeconomic and cultural issues affecting building and construction on a local, regional and global level. The competition has been run by the Swiss-based Holcim Foundation since 2004, and offers US$2 million in prize money per three-year cycle.
The ceremony in Toronto for the competition region North America followed the first presentation of winners in Moscow (for Europe). Further events will be held in Medellín (for Latin America), Beirut (for Africa Middle East) and Jakarta (for Asia Pacific). The projects that receive Holcim Awards Gold, Silver and Bronze in each region automatically qualify for the Global Holcim Awards 2015.
The Holcim Foundation is supported by Holcim Ltd and its Group companies in around 70 countries and is independent of its commercial interests. Holcim is represented in North America by Aggregate Industries US, Holcim Canada and Holcim US.
Source: Holcim (Canada) Inc.