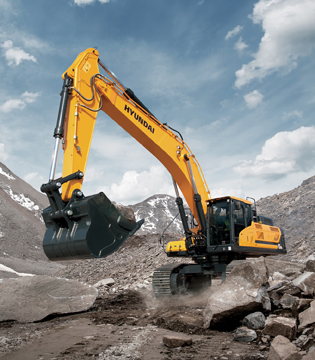 Hyundai Heavy Industries
and Scania Announce Partnership
The partnership involves Scania supplying engines from its complete range of 9 l, 13 l and 16 l models. A particular focus will be on meeting what is currently the most stringent emission standard, Tier 4 final. Equipment that meets Tier 2 and Tier 3 emission standards will also be introduced.
The first piece of Scania-powered Hyundai construction equipment to be launched is the HX520 excavator. It is powered by a 13 l Scania Tier 4 final engine capable of producing 444 hp.
"We are very pleased to announce this partnership with Hyundai Heavy Industries," says Per Nielsen, key account manager at Scania Engines. "We have worked very closely with Hyundai during the development phase. We have adapted our engines to suit Hyundai's equipment, with a major focus on fuel economy, efficiency and total cost of operation."
Three further excavator models powered by Scania engines will be launched: the HX480, powered by a 13 l engine, and the HX700 and HX900, both powered by a 16 l V8 engine. Two wheel loader models will also be launched: the HL970 and the HL980, which are powered by a 9 l and a 13 l engine, respectively.
Hyundai Heavy Industries chose Scania engines for their reliability and durability and expects to benefit from improved performance and quality, resulting in increased sales of its excavators and wheel loaders. The company also anticipates improved fuel efficiency (2%~10%) depending on the mode of operation.
Source: Scania