HARTL CRUSHER Sets Foot in North America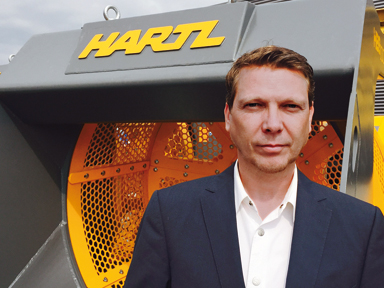 HARTL CRUSHER Sets Foot in North America
HARTL Engineering & Marketing GmbH proudly announces the formation of HARTL Crusher North America LLC, based in Henderson, Nevada, on August 19th 2015. Martin Hartl was appointed as vice president.
The new US company is a 100% subsidiary of the Austrian-based innovator of high mobile crushing and screening equipment – better known under the name HARTL CRUSHER, where the balance between innovation, high quality and over 40 years of experience in the crushing and screening arena is achieved and make an exceptional product portfolio of bucket crusher and screener.
The new subsidiary in the U.S. is the result of intensive marketing and customer research over the past few years all over North America to enable HARTL to invest in their beliefs of achieving their goals and to create a long-term success in one of the most important world markets.
Located close to Las Vegas, the company will support and service the existing and new customers and dealers in North America. A central spare parts depot, training centre and demo area will be created to provide a solid base for long-term support and success of the HARTL CRUSHER product range.
"The Hartl History in the United States goes back to the 1980s when my father Franz and his brother Adolf Hartl started to market their skid-, wheel- and later track-mounted crushers along with their screeners and recycling plants. As the industry first Austrian exhibitor, they were already offering mobile crushing and screening solutions at the Conexpo/Chicago in 1981," said Martin Hartl.
"It is therefore a great honor and unique challenge for me to introduce our latest development of the HARTL bucket crushers and screeners to the North American Market. I definitely look forward to building and strengthening our long-term relationship with customers and dealers in this great industry and market! The success for all of us through this relationship is my goal," added Mr. Hartl.
Source: HARTL Crusher North America LLC