SDX-130 Stacker Maximizes Stockpiles Without Interruption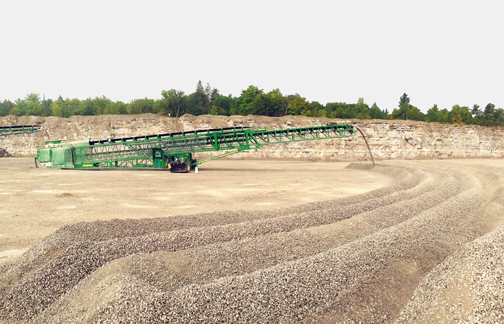 McCloskey International has introduced a 91 cm x 39.6 m (36"x130') desegregating telescoping stacker. This is the first in a new line of self-contained desegregating conveyors to enhance and streamline materials handling.
The new SDX-130 stacker desegregates and maximizes stockpile capacity using a robust, fully automated and highly flexible control system providing optimal control of material quality.
With its onboard diesel hydraulic unit, the SDX-130 is highly portable, complementing mobile screeners and crushers on site. The on-board power proves cost effective for customers, by removing the need to transport and setup a separate genset or arrange supply of main power on-site. Setup from delivery to operation can be accomplished in 15 minutes.
The design reflects feedback from customers in a cross-section of applications and industries, and McCloskey International's commitment to deliver the best products based on that input.
"Feedback from our customers led to the decision to offer a desegregating conveyor to complement our mobile crushing and screening product lines. We will always look at new and innovative ways to develop our products to meet the unique challenges of our customers' projects around the globe," said Paschal McCloskey, president and CEO of McCloskey International. "McCloskey's first product thirty years ago was a stacking conveyor, and we will continue to seek new ways to design and manufacture equipment that exceeds the expectations of our customers."
Source: McCloskey International Limited